Bulldogs fall to Braves, Cardinals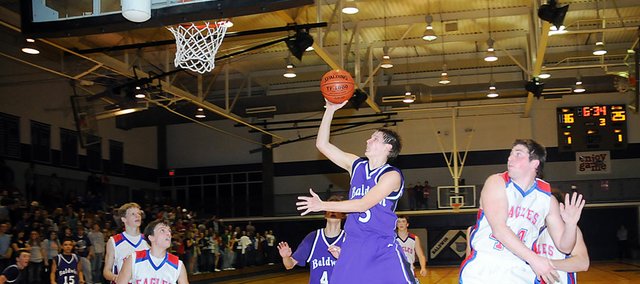 Baldwin High School's boys' basketball team's offensive woes continued from Saturday's tournament championship game to Tuesday's Frontier League contest at Eudora.
The Bulldogs struggled to score early in the contest, but rallied to in the second quarter. However, a scoring drought in the fourth quarter doomed the Bulldogs as they fell 35-29 to Eudora.
"It's the thing that's plagued us for about a year and a half now," coach Eric Toot said. "Tonight, we just didn't play very well. Offensively, we tried to play up-tempo, but we were too impatient and took some bad shots early. They were very patient and I knew they would be. They ran 30 seconds to a minute off of the clock per possession."
Baldwin built a small lead in the third quarter. BHS led 24-16 late in the third quarter before Eudora hit a three-pointer to end the quarter. That sparked the game-winning spurt by the Cardinals.
Eudora used the momentum to build a lead and hold the Bulldogs to three points for most of the fourth quarter. It was enough to hold off the Bulldogs.
"We got down early, but our kids fought back to tie it at half," Toot said. "Then we went on a nice little run in the third quarter. Once again we had a very long scoring drought and they finished the game on a 17-3 run."
Despite being disappointed, Toot was pleased with the performance of some BHS players Tuesday.
"I thought our bench gave us some big minutes." he said. "Asher Hannon came in and gave us a spark, especially defensively. It's hard to say anyone played really well when you score 29 points and no one's in double figures. I thought all of our kids battled. They are frustrated and tired of me telling them to keep battling and things will work out."
The Bulldogs' offensive woes might have carried over from Saturday's loss to Bonner Springs in the Baldwin Invitational Tournament championship. The Bulldogs fell to Bonner Springs 60-41 in the title game. It was the second straight year the Braves beat the Bulldogs for the Baldwin Invitational Tournament title.
"Their quickness was an eye opener," Toot said. "We haven't played a team that quick this year. It sped us up. Their press didn't speed us up as far as turnovers, but it sped us up on our shots. We weren't set to take quality shots. I think a lot of it had to do with their quickness and athletic ability."
Bonner Springs fed off of a 22-1 run during the first half to put Baldwin away early. Bonner Springs led by 20 points at halftime and the Bulldogs never cut the lead to fewer than 16 points in the second half.
"We had a drought in the second quarter where I thought we missed some easy shots," Toot said. "We missed some free throws. Against a team of that quality, you have to hold off their runs by scoring yourself. When you're missing, it's hard to get back all the time and set up our defense."
Baldwin outscored the Braves by one point in the second half, but the damage was done in the second quarter. Senior Justin Vander Tuig and freshman Chad Berg made the all-tournament for Baldwin.
On Friday night, the Bulldogs made 20 of 29 free throws as they held off Wellsville in the semifinals. Baldwin won 55-44 over its former rival.
Vander Tuig had a quiet 25 points to lead the Bulldogs. The 6-foot-8 senior scored 13 of his 25 points from the foul line as he made 13 of 16 free throws.
"It's always nice to play in a championship game," Vander Tuig said after Friday's win. "You don't often get that chance. It's going to be fun."
After going 2-1 in their home tournament, the Bulldogs coach was pleased with their week.
"I thought we had a good week overall," Toot said. "We had two quality games that we won. We just haven't seen that type of quickness and athleticism that Bonner Springs has. Hopefully we'll get better from it."
Baldwin will play Osawatomie at 7:30 p.m. Friday at home.
"We just have to come back and practice hard tomorrow," Toot said. "We have to try and bounce back Friday."