USD

348 officials react to possible state budget cuts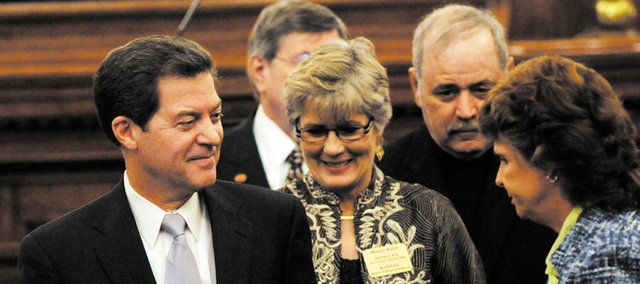 Paul Dorathy wasn't shocked with news of the governor recommended state cuts to education for this year or next year. In fact, he feels prepared for the looming budget cuts.
The USD 348 superintendent just didn't know how much might be taken out of the 2010-2011 or 2011-2012 budgets. On Thursday, newly sworn-in Gov. Sam Brownback announced his proposed budget.
Brownback's proposal slashes nearly $140,000 for this year and about $290,000 next school year, according to the Kansas State Department of Education.
"None of this came as a surprise," Dorathy said. "We have expected this to happen. The federal stimulus money was going away, which left a big hole to fill, so we knew this was probably going to happen."
Brownback has proposed cutting base state aid from $4,012 per student to $3,780 per student, a drop of $232 per student or 5.8 percent. If approved by the Legislature, base state aid would be at its lowest level since 1999-2000.
This year's state aid per pupil would be cut $75, reducing the base from $4,012 to $3,937. The second cut would be for next year's budget, and it would be a decrease of $157 per pupil, causing the base to drop to $3,780.
"His proposal would cut our budget this year by $137,955," Dorathy said. "That is the 2010-2011 budget. It's specifically because of the assessed valuation across the state of Kansas went down. There was an increase in at-risk students and enrollment across the state, too. Those three things combined to cause the proposed $75 cut per pupil this year. Next year's reduction of $157 per pupil would cut $288,786. That's based on our enrollment, which is 1,352 FTE students."
Dorathy said the budget could get complicated.
"I do want to caution people not to just take 1,352 and multiply it by the per pupil base, because they won't come out with that amount of dollars," he said. "You have to add the weightings, which include at-risk, special education and transportation. There are a whole bunch of weightings that you have to add, so 1,352 doesn't work. The number is closer to 1,700."
If Brownback's proposed budget is approved, USD 348 will be forced to slash its budget once again. While many other districts across the state are worried about the cuts, Dorathy said USD 348 would mostly likely be in good standing if cut this year.
"Last spring the board made some cuts in the district," Dorathy said. "Part of the reason to do that was to plan for a potential cut in the middle of the school year.
"If we were not able to cover it with that, we also have the new facilities weighting, which gets us by temporarily. It only lasts two years, so we could only use it temporarily."
The additional budget cut next year could be offset by the savings proposed from closing Marion Springs and Vinland elementary schools. The district plans to save about $420,000 by consolidating the four elementary schools into two next year.
"Depending on what happens with the state, we may or may not be able to do some of the things we wanted to do," Dorathy said. "That was always based on trying to put some things back in. If they cut us like they are proposing, we won't be able to do all of the things we had wanted to do next year."