Four Bulldogs place at Bobcat Classic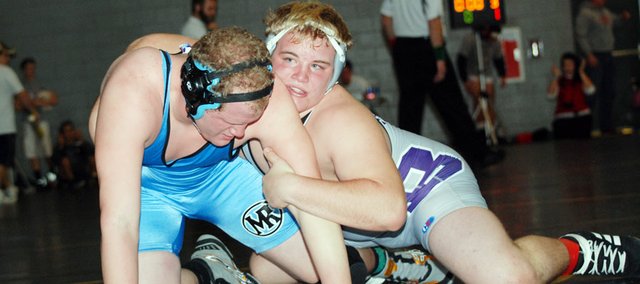 Baldwin High School's wrestling squad survived its toughest tournament of the season last weekend.
Four of Baldwin's eight wrestlers at the Bobcat Classic finished in the top eight of their weight class. As a team, Baldwin placed 15th at the end of the two-day event, which is the state's largest tournament with 34 teams from Kansas, Missouri, Iowa and Colorado.
"I'm happy with the results," coach Kit Harris said. "We were 20-18 in matches wrestled, which is a positive in a tournament like this. It was great to have four placers. We only had a couple losses that we probably should have won, but we had some big wins over quality opponents.
"The backside bracket was a bloodbath to the placing round, especially this year because the tournament as deeper than ever," he said. "It's getting to be such a tough tournament that teams are only bringing their top wrestlers so each round is a dogfight. Each backside match was a good test for our guys."
His wrestlers were also pleased with the team finish.
"It was a tough tournament with a lot of teams," junior Colton Bonner said. "Some people came to wrestle and some didn't. We wrestled well as a team and competed against some different teams that we don't normally see."
Bonner was one of the four Bulldogs to finish in the top eight of their weight class. Bonner (215 pounds), along with sophomore Bryce Shoemaker (119) and junior Andrew Morgan (125) finished in fifth place. Freshman Tucker Clark (112) placed sixth to become the second freshman Bulldog ever to place at the Bobcat Classic, joining Shoemaker, who was second last year as a first-year Bulldog.
"Our best wrestler of the weekend was Colton Bonner," Harris said. "He had four wins in a really tough bracket. All four of his wins were against really good wrestlers. He was scoring seven points or more against good guys. He wrestled better than he had all season. He was amazing. If he wrestles like that he will do really well at regionals and state."
Bonner won the most matches of any Bulldog at the tournament. He went 4-2 in his bracket to finish fifth. He won his matches 8-3, 7-1, 7-2 and 12-5.
"I finally put stuff together, and I'm starting to get it," Bonner said. "Coach Harris is really sticking with me, and I'm sticking to it. I'm just hoping I keep improving throughout the season. This was my best tournament in high school. I was winning and beating some tough guys. It was fun."
Harris was pleased to see Bonner wrestle well during the weekend.
"He's had a great year," he said. "He's added a lot variety to his wrestling, which has really helped. He's a lot more unpredictable, and he's got lots of scoring options. He's really focused and working very hard every day."
In the 119 bracket, Shoemaker began his tournament with a second-round pin and a 9-2 decision as he advanced to the semifinals. He lost 2-0 in the semifinals and moved to the consolation bracket. He lost 3-2, before winning by pin in the first round to place fifth.
"Bryce had a really tough bracket," Harris said. "He lost to a kid who will most likely be a four-time state champion, and who's only lost two matches in his career. He lost to him 2-0. He lost on the backside to a kid he beat earlier in the year, but it was good experience for Bryce."
Morgan also advanced to the semifinals. He won his first two matches 6-4 and 12-2. He lost 11-3 and 7-3, before winning his final match 7-1.
"Andrew had an awesome win in the quarterfinals over the third seed, who ended up finishing fourth," 'Harris said. "Andrew is pretty consistent, and we always get a good performance out of him."
Clark won his first two matches of the tournament, 8-4 and 2-1. He narrowly lost his last two matches, 2-0 and 3-2.
"We finished strong by winning three of our last four," Bonner said. "It was nice to go out winning."
The other BHS wrestlers were junior Cody Sellers (130), senior Colby Soden (135), senior Greg Schiffelbein (145) and senior Keenan Coffey (189).
Baldwin will compete at Holton on Saturday. The action begins at 9:30 a.m.
"It will be tough like Rossville," Harris said. "Rossville had 3A and 4A schools, this one will have lots of 5A schools."