BHS

winter royalty week concludes with crowning ceremony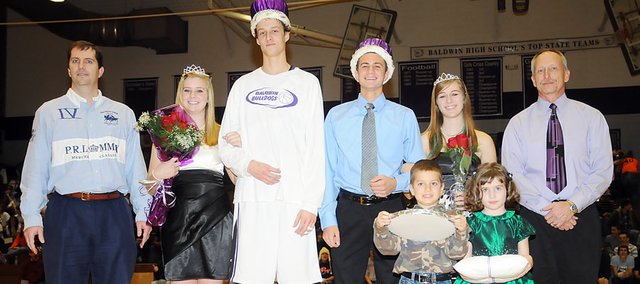 It was time for the annual winter royalty at Baldwin High School, as it was Kings and Queens of Courts last week.
The week had activities throughout, culminating with the royalty winners being announced at halftime of Friday's boys varsity basketball game followed by the dance in the BHS cafeteria.
Students voted for candidates during lunch Wednesday and Thursday to determine the king and queen of courts winners. The king and queen winners were Justin Vander Tuig and Myriah Pippert from the senior class, and crowned prince and princess were Brian Wright and Carol Whaley of the junior class.
"It was pretty cool winning and being named prince," Wright said. "Asher (Hannon), Chip (Kueffer) and I are really good friends, so it didn't matter who won. But I respect all classmates, and it was nice of them to vote for me."
The other candidates were Tony Weiss and Kyle Garcia for king, Ramie Burkhart and Heather Karlin for queen, Asher Hannon and Chip Kueffer for prince and Lakyn Clark and Hayley Schwartz for princess.
The week started with spirit days where candidates and students participate in a different theme each day. The first two spirit days were canceled because of snow days, but the rest of the week went off without a hitch.
The candidates also had to choose and sing a classic Disney song in front of the student body Wednesday at a prep rally.
"I was really nervous to sing in front of the whole school," Whaley said, "But it wasn't so bad. I'm really glad I got nominated, because it was such a fun and memorable experience I will have for the rest of my life."