Winter storm closes schools; work crews clear roads, sidewalks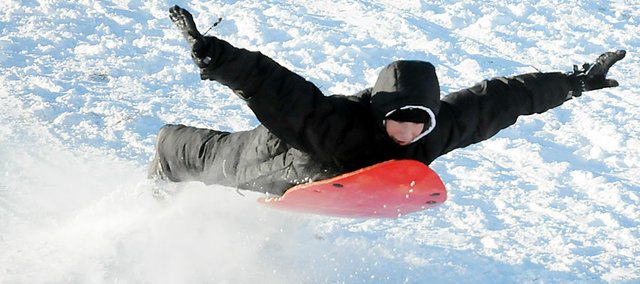 Photo Gallery
January 10 winter storm
Here are scenes from in and around Baldwin City during the winter storm that hit the area Monday, January 10.
While cities north of Baldwin City were covered in snow Sunday morning, local residents waited patiently for winter to leave its mark.
On Sunday night, it began. Snow continued to fall until Tuesday morning, blanketing the area with approximately six inches of snow. It was the first major snow of the season.
Although some enjoyed the first significant snowfall of the winter, it created problems for commuters and closed down numerous school districts in northeast Kansas. USD 348 was one of many district to close school Monday and Tuesday.
"The main reasons were the amount of snow accumulation and the fact that how cold the temperatures were going to be this morning," Superintendent Paul Dorathy said. "We planned for a couple of snow days in the calendar."
The large amount of snowfall also forced the school district to postpone its regular monthly board of education meeting. It was scheduled for Monday night, but it was moved to 6:30 tonight at the Distict Office.
"Laura tried to find a date that worked for most of the board members," Dorathy said. "Thursday worked best, so we've moved the meeting to Thursday night."
A large snowfall always means extra work for the school district maintenance and the city of Baldwin City crews. They put in extra hours trying to clear roads, parking lots and sidewalks for city residents, district patrons and staff members.
"They did both," Baldwin City Administrator Jeff Dingman said. "We've got two trucks with the sand spreaders on them and those both have snow plows on them, too. Then we probably have three additional pickup trucks with the blades."
Both Dingman and Dorathy were pleased with the snow removal efforts Monday and Tuesday.
"They've done a very good job of clearing the roads," Dingman said. "They were out a bunch Monday morning, but then they were off for the afternoon and early evening. Then they went back out late last night. That gave people time to get home and off the streets, so there was less traffic. It was also after most of the snow had already fallen.
"They were out pretty late last night again. I know they were still working around 1 a.m. They worked more this morning to make sure the roads were cleared off after the snow fell Monday night. The roads were still pretty slushy, because we did put a lot of treatment down. So they were cleaning that stuff off this morning. We were ready for this."
Much of the same could be said for the school district crews. Their boss was happy, too.
"I know the crews worked Monday, but the problem was the snow just kept falling," Dorathy said. "So they had to repeat much of their work. Today, they were working to get all of our sidewalks and parking lots clear so that we will be ready tomorrow if we have school."
The Baldwin schools resumed classes Wednesday, but snow is forecast for Baldwin City early next week, so keep those shovels ready.