Bulldogs avenge season's lone loss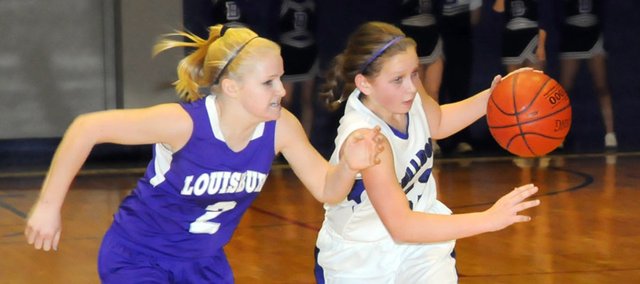 Baldwin High School girls' basketball team learned how to finish off Frontier League rival Louisburg after its first contest Dec. 10.
When the teams faced each other for a second time Friday, Myranda Behrens didn't need to sink long three-pointers to catch the Wildcats and the Bulldogs didn't blow a double-digit second half lead.
The Bulldogs avenged their only loss of the season by sinking two-dozen free throws. The Frontier League battle was a physical one as both teams combined to shoot 48 foul shots. Baldwin (6-1) made 24 of 34 from the line as it won 56-44.
"It was really physical," sophomore Kailyn Smith said. "We just had to play our game. We couldn't let our frustrations get to us. We had to just stay and play our basketball.
"It was a really good win for us, especially with our history against them. We really wanted to come out and get after them tonight. It was nice to hold on to the lead this time. It will help us down the road in later close games."
Louisburg tried to repeat its comeback from the first game. The Wildcats cut a 12-point Baldwin lead down to five points during the opening 3:30 of the fourth quarter.
Coach Bob Martin called a timeout to settle his team down after Louisburg made the score 47-42. Baldwin responded by outscoring the Wildcats 9-2 during the remainder of the contest.
"I thought we played really well for most of the game," Martin said. "I thought we lost our poise at the start of the fourth quarter just a bit. When we had a chance to put them away, we kind of let them back in the game. During the last four minutes, we grabbed hold of the game, and I thought we played very well down the stretch. They struggled against us down the stretch, and that's how we need to play."
Baldwin slowed down the Wildcats during the final minutes with a 2-3 zone defense. It forced the Wildcats to play around the perimeter and pass the ball around the outside. It also limited their ability to drive to the paint.
"We wanted to settle us down a bit and fluster them a bit," Martin said. "We rebounded pretty well out of it, so I was happy with how our zone worked late in the game."
Baldwin's final nine points came from the foul line. Senior Allison Howard and sophomore Monica Howard made the final free throws.
"You have to hit some free throws, and you have to play with some poise," Martin said. "We did both during the final four minutes."
A. Howard led Baldwin with 13 points. Smith also scored in double figures with 11 points.
Baldwin took control of Friday's game early. BHS never trailed during the contest as M. Howard scored the first two buckets. She started her first game of the season on Friday because sophomore Katie Kehl was out with an injury.
Her older sister scored the next two. Senior Myranda Behrens found her shot again by hitting a three-pointer to end the first quarter. Behrens didn't score for the first time all season last week at Eudora.
"I thought she would play well for us," Martin said. "Monica has been playing really well for us. I felt like we'd be fine with Monica replacing Katie in the starting line up, but now we need to develop our bench a bit, because we lost Monica from our bench. I felt like we had some girls come off of the bench and gave us some good minutes like Callie Enick and Kaitlyn Barnes. They came in, did what we needed them to do in their role and played well."
The entire game didn't go smoothly for Baldwin. Smith was injured while going for a loose ball early in the third quarter. While she was in there, senior Ramie Burkhart also suffered an injury and left the game.
"I was really worried there," Martin said. "We lost Katie Kehl for a few weeks. Then we had Kailyn and Ramie go down. That's about all I was thinking about until I saw Kailyn come back from the locker room."
Smith came back shortly after Burkhart entered the locker room. Burkhart returned less than a minute later. Both players finished the game.
"I was really concerned when Ramie came into the locker room," Smith said. "I just knew we had to toughen up and finish the game with such little time left."
Baldwin and Louisburg will meet for a third time this season and their second league contest Feb. 15 at Louisburg.
"It will probably be a war when we go down there," Martin said. "Our league is a tough league."
Baldwin was scheduled to play Ottawa on Tuesday, but the game was postponed because both schools were out on snow days. BHS will host Spring Hill at 6 p.m. Friday.