Kansas Highway Patrol identifies Eudora woman, Missouri man as two injured in Thursday's K-10 accident, near DeSoto
Lawrence man driving vehicle that lost control of its trailer, striking Missouri man's vehicle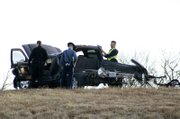 The Kansas Highway Patrol has identified a Raytown, Mo., man and a Eudora woman as the two people taken to hospitals during a rush-hour crash Thursday that closed westbound Kansas Highway 10 near De Soto.
According to a KHP report released Friday morning, Barry L. Clemons, 44, of Raytown, was injured when his westbound 2005 Chevrolet truck was struck by an trailer that came loose from an eastbound vehicle. After the collision with the trailer, a westbound 2008 Toyota Avalon then struck Clemons' truck.
Clemons was taken to Overland Park Regional Medical Center with disabling injuries. The report said he was not wearing a seat belt.
The Toyota's driver, Joanne K. Kite, 49, Eudora, was taken to Lawrence Memorial Hospital with a possible injury. She wore her seat belt, according to the report.
The trailer crossed the median after it came unhitched from an eastbound 2000 Chevrolet Silverado truck driven by Jerold D. Evans, 56, of Lawrence. No one was injured in Evans' vehicle.
The wreck occurred at 3:44 p.m. near Lexington Avenue. The westbound lanes of the highway did not reopen for several hours, according to the Johnson County Sheriff's office.