Time for Baldwin City residents to Take Charge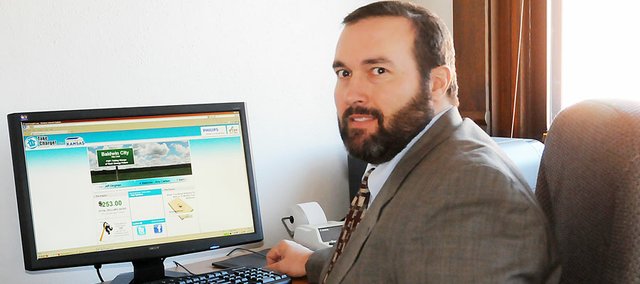 For the next nine months, the city of Baldwin City is asking its residents to be more energy efficient in hopes of winning a $100,000 grant.
From Saturday until Sept. 30, Baldwin City is one of 16 cities in the state participating in the Take Charge Challenge. It's a friendly competition between towns to reduce their energy use, save money and take charge of their energy future. The Baldwin City Council voted to join in November.
"I looked at this a week ago, and I don't see a downside," Mayor Ken Wagner said at the meeting. "We could get $100,000 to use if we win. This could be a great thing."
The statewide contest is divided into four regions, which are northeast, northwest, southeast and university. In the northeast division, Baldwin City will be competing against Gardner, Ottawa and Paola for a $100,000 grant, which can be used to make the city and its residents more energy efficient. Each of the four cities has been given a $25,000 grant, which can be used for the contest.
"We can use that $25,000 to help buy some promotional materials and host some events," City Administrator Jeff Dingman said. "There are various things we can use that money for, and we get reimbursed for $25,000."
The Take Charge Challenge is divided into three categories in which cities can earn points. Those are housing switches, community involvement and promotion of weatherization and energy-efficient programs.
It's the housing switches category where residents can help Baldwin City win the contest. Anyone who switches light bulbs and installs energy-efficient lights, such as CFLs, can record the switches online.
"The one component that takes the most direct community involvement is the housing switches," Dingman said. "That means switching from incandescent light bulbs to more-efficient bulbs. Making the switch is one thing, but you have to log in and record the switch.
"It will take some effort. You have to register with an email address and then log in to record your switch. It's also more about the publicity of the contest than I thought it was."
Anyone wanting to register and record changes should go online to www.takechargekansas.org. According to the site, "to make the competition fair for all communities, the competition is scored on switches per capita. Each time you enter a CFL switch in the Web page, the number of bulbs are counted alongside the others in your town. The total number of switches is then divided by the population of your town. This gives us a switch number scaled to the size of your community. Therefore, no one town has an advantage over the other."
As of Tuesday night, there were already 51 switches recorded for Baldwin City. Along with recording switching to energy-efficient light bulbs, the city staff will be promoting the contest and efficiency at public events during the next nine months.
"We are thinking about scheduling something at a basketball game," Dingman said. "We may set up some sort of informational booth at the game and maybe hand out some literature."
The cities in the other regions are Colby, Goodland, Hoxie, Oakley and Wakeeney in the northwest region; Chanute, Fort Scott, Iola, Parson and Pittsburg in the southeast region; and Lawrence and Manhattan in the university region. The winner of each region will receive a $100,000 grant.
"It's limited what you can use it for," Dingman said. "But you can use it to upgrade lighting in public places. A $100,000 prize is still significant to those guys, but not as big as it would be to us. The same thing could be said in our competition. We might have a better chance of reaching more of our population than Ottawa or Gardner, because we are a smaller city."
This is the second year for the Take Charge Challenge. A year ago, it was limited to six cities in the state.