New year — same results for
BHS

girls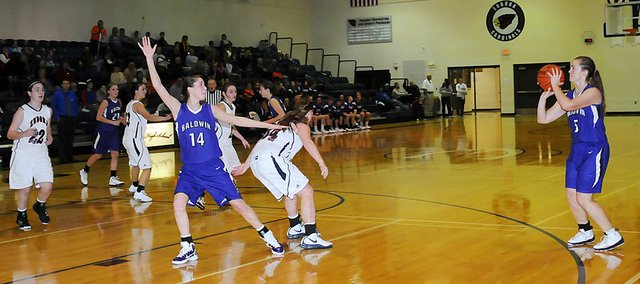 EUDORA — It didn't take long for the Baldwin High School girls' basketball team to shake off its rust after returning from Christmas break.
BHS needed only 16 minutes.
The Bulldogs worked out the kinks here Monday night after the first half, as they used 10-0 and 11-0 runs to start the third and fourth quarters to get away from the Cardinals in the second half.
"We had some really good practices," coach Bob Martin said. "I feel like we are better now and that was our goal over the break. We wanted to come back, not just to be back in shape and ready to play, but we wanted to be a better team when we played this game. I think we were tonight."
Baldwin (5-1) went on to defeat the Cardinals 54-31 and win its first game of 2011. BHS is now 2-0 in Frontier League games after beating Paola at home in December.
"We were just getting our feel back, I guess you could say," said senior Ramie Burkhart, who scored a game-high 17 points. "We were all really excited to play again. It's been a long break, and we were anxious to get on the court again. We were going too fast and weren't taking our time with the ball. So we slowed down in second half and did a lot better."
Martin had a different explanation for the sloppy play in the first half Monday night.
"We had so many opportunities in the first half, and we didn't convert on many of those," he said. "We had some shots inside or we just fumbled the ball. We were much better in the second half, especially offensively. I was also happy with how we stepped up defensively in the second half, too. Even when we had a lead, we played pretty well defensively, which is nice to see."
A quick, 10-0 run early in the second half helped Baldwin pull away from a Cardinals team that was hanging around in the first half. Burkhart and Howard each sank three-pointers during the stretch. Baldwin needed only three minutes to stretch a nine-point halftime lead to 19 points after Howard's trey.
Another 11-0 spurt by Baldwin to open the fourth quarter broke the game open. Howard sank two free throws and drained a three-pointer as she finished the night with 13 points. Burkhart scored the other six points during the 11-0 run.
"We worked on a couple more plays during break, and we got those down quite well," Burkhart said. "When we set up a play and ran it properly, it worked really well."
Howard credited the strong second half to Martin's halftime speech. He reminded the team of its struggles during the third quarter in its previous two contests.
"At halftime, we talked about how we've only scored a combined total of nine points in the last two third quarters," Howard said. "We wanted to make sure we scored in the third quarter and I think we did that. We definitely don't want to give up games in the second half, like we did against Louisburg."
Baldwin jumped on Eudora from the beginning of the game. Burkhart scored a layup and jump shot to give BHS a quick 4-0 lead. Howard and her sister, sophomore Monica Howard, along with Burkhart scored baskets as BHS built a 10-2 lead during the opening four minutes of the game. M. Howard and sophomore Katie Kehl scored seven points apiece in the post for Baldwin.
"I thought they have a good inside game," Martin said of Eudora. "I felt like we did a good job of controlling their inside game. Monica did a good job on the boards, and she was able to put a few offensive boards back in for baskets. She is tall and athletic, and that's where she helps us. We also finally got the ball inside to Katie. We weren't able to do that in the first half."
Baldwin will have a chance Friday to avenge its only defeat of the season. BHS against visiting Louisburg at 6 p.m. The Wildcats beat Baldwin on Dec. 10 in double overtime, despite Baldwin leading much of the game.
"We are very anxious for Friday," Burkhart said. "We are excited to have our chance to get back at them."
Baldwin will play at 6 p.m. Tueday in Ottawa. Then the Bulldogs will be the host of Spring Hill at 6 p.m. Jan. 14.
"We have a really tough stretch coming up," Martin said. "Louisburg should be a very good game. Then we have Ottawa and Spring Hill. We will find out a lot about ourselves during the next two weeks."