Baldwin High's Austin chosen for annual Shrine Bowl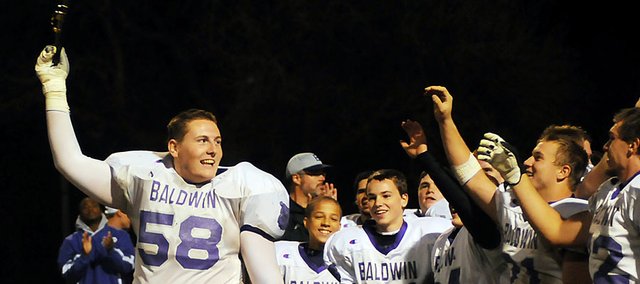 Mike Berg's Baldwin High School football squad will be sending another offensive lineman to the Kansas Shrine Bowl.
Jesse Austin will be the Bulldogs' fourth Shrine Bowl selection during the last six years. Austin, a senior at BHS, was recently chosen for the 2011 Kansas Shrine Bowl.
"I got a package in the mail a couple weeks ago on a Friday," Austin said. "Coach Berg told me the Shrine Bowl wanted my info, so I thought it was going to be something saying that I got nominated. Then I looked at it, and it said I was selected. It was awesome. I was celebrating and told my mom. I went back to school and told coach Berg."
The 6-foot-6, 300-pound Bulldog was inspired by a former teammate. When Austin was a freshman, 2008 BHS graduate Anthony Ciambrone was selected to the Shrine Bowl.
"Ever since Anthony Ciambrone got selected, I always thought it would be something exciting to do," Austin said. "I'm really excited to put on my silver Baldwin helmet one more time."
Ciambrone was the second-most recent Bulldog to be chosen for the all-star high school football game. David Tuley was selected to the game in 2009. Kyle Ruona was the other offensive lineman chosen from Baldwin. Ruona was selected in 2005. Micah Mason went to the Shrine Bowl as a running back in 2004.
"We have another offensive linemen headed to the Shrine Bowl," Berg said. "We've had Ruona, Tuley, Ciambrone and now Jesse Austin. We're going to be known as the school with the really good offensive linemen."
Austin will be playing along side some area players who he played against during his career at BHS.
"The way I look at it is that 4A and smaller schools have better offensive linemen, because many of them are farm kids," Austin said. "Then the skilled players come from the larger schools. That's how it seems to go for the most part. I know there are some linemen from Louisburg and Silver Lake on my team, and we will be blocking for guys from bigger schools."
His coach was thrilled for one of star senior players.
"I am really happy for Jesse," Berg said. "He's worked so hard the last four years. We always knew he had the big size, but he's gotten so strong and he really made his feet a lot better. It's a great honor for him.
"He's been more committed. As a freshman, you are going to be 100 percent committed, a little committed or not committed at all. He was a little bit. But he worked hard in the offseason every year. During his senior year, he didn't miss anything. When you work hard like that, you are going to be rewarded."
The 38th annual all-star football game will be played July 30 in Hays.
"The main thing I'm worried about is being in shape," Austin said. "It's going to be during the hottest time of the summer. I don't want to go in there out of shape and get my butt kicked."
Three other Bulldogs were nominated for the game. They were Josh Hoffman, Jesse McDaniels and Ryan Rogers. The Shrine Bowl only allows for one player to be chosen from a team.
"I'm very excited to be selected," Austin said. "I was very surprised I was chosen, because I thought there were seven guys on our team that could play in the game. I was going to be happy for them if they were selected, but then somehow I got selected. It will be a lot of fun."