BHS

girls open 2011 with road win at Eudora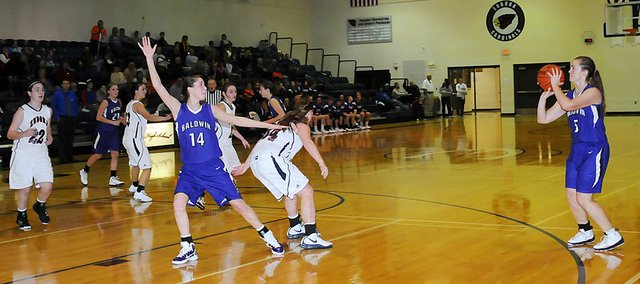 EUDORA — A 10-0 run to start the third quarter boosted Baldwin High to a girls' basketball victory here Monday night.
Baldwin's Ramie Burkhart scored five of her game-high 17 points during the opening minutes of the second half. Allison Howard, who added 13 points for the Bulldogs, drained a three-pointer to give Baldwin a 33-14 lead less than three minutes into the third quarter.
The Bulldogs (5-1) went on to defeat the Cardinals 54-31 and win its first game of 2011. They also outscored the Cardinals 10-0 in the first 3:30 of the fourth quarter.
Both teams struggled to find their touch in their first game back from Christmas break. Burkhart helped Baldwin get off to a quick start by scoring six points during the first three minutes of the game.
Baldwin will host Louisburg at 6 p.m. Friday at home.
Scoring summary
B — 12 11 16 15 – 54
E — 5 9 8 9 – 31
Baldwin — Allison Howard, 13; Ramie Burkhart, 17; Katie Jones, 5; Kailyn Smith, 2; Jessie Katzer, 3; Katie Kehl, 7; Monica Howard, 7.
Eudora — Anyssa Mays, 2; Ashlyn Jackson, 4; Cassie Roberts, 3; Valerie Pringle, 13; Jennifer Bowser, 3; Allie Webb, 2; Victoria Lehmann, 4.