St. James boys advance; Baldwin season ends Monday night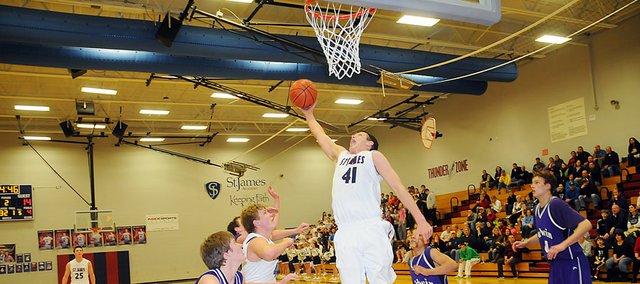 LENEXA — Despite a hard-fought game against the favored home team, the Baldwin High boys' basketball season ended here Monday.
After pulling within four points following a Caleb Gaylord three-pointer, the Bulldogs were unable to score again during the final minute. The No. 6-seeded fell to No. 3 seed Saint James Academy 54-43 to end the season 7-14.
"When I went to watch Baldwin on Friday, and I told their coach, they are disciplined, they run their sets and they space the floor," St. James coach Mark Huppe said. "I knew they would give us a difficult time. I thought our shot selection was good, we just couldn't get much to fall after the first quarter, but a lot of that had to do with them."
Baldwin trailed by 11 early in the second quarter, but finished the half on a 10-2 run. St. James started to pull away in the third quarter, but Baldwin fought back to a one-possession game twice in the fourth quarter. The Thunder made seven of their final eight free throws to seal the victory.
"We were definitely the underdogs coming into tonight and our kids embraced it," Baldwin coach Eric Toot said. "We played about as tough as a team could play tonight. I'm proud of our kids tonight, but sad to see our season end, especially for our seniors."
St. James will advance to play Thursday at Spring Hill.
Scoring summary
SJ — 21 6 14 13 – 54
B — 13 11 10 9 – 43
St. James — Tom Huppe, 3; Frankie Zitnik, 8; Jonathon Anaekwe, 18; River Scott, 2; Clint McCullough, 18; Connor McCullough, 5.
Baldwin — Kyle Pattrick, 7; Asher Hannon, 2; Cornell Brown, 5; Caleb Gaylord, 7; Dayton Valentine, 6; Justin Vander Tuig, 16.