Six Bulldogs qualify for state wrestling tournament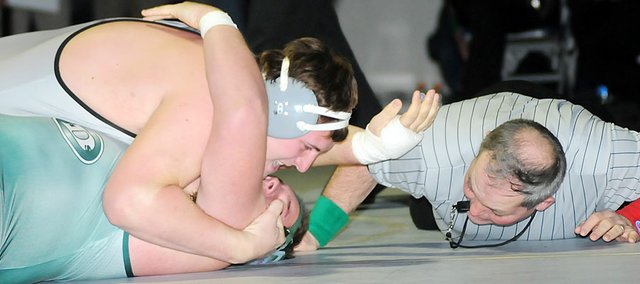 HOLTON — Jesse Austin proved studying your opponent can benefit, even in wrestling.
In his 285-pound finals match, the Baldwin High School senior used his previous knowledge to his advantage. Austin pinned De Soto's Hayden Chandler in 40 seconds to win the Class 4A regional title.
"I knew exactly what I was going to do going into that match," Austin said. "I've watched him wrestle several times. I knew exactly how he was going to be. He let me inside his body and thought he could overpower me. I did my trip."
Austin took Chandler to the mat by tripping him. Chandler fell on his back and Austin earned the first-period pin. However, previous matches against Chandler didn't always go in Austin's favor, including their match at the Frontier League duals the week prior. In that match, Austin took Chandler to his back, but was rolled over and Chandler won by pin.
"I said he's not going to roll me through this time," Austin said. "If I get him on his back, I'm going to pin him. I made sure I was in the circle of the mat, too."
Austin went 3-0 at the regional tournament to qualify for his first state tournament. He was the Bulldogs only regional champion.
"This is the best feeling I've had since I started wrestling," Austin said. "I'm excited for state. The end of my high school wrestling career is here. I need to wrestle my best now."
The Bulldogs' coach was proud of Austin and happy with his results.
"He had three first-period falls," coach Kit Harris said. "Two of those are against guys who qualified for state. He wrestled great. He's like that. He can be very dominating. He's wrestling smart and patient but aggressive where he needs to be."
Austin and five other Bulldogs will be heading to Salina to compete in the 4A state tournament Friday and Saturday. They helped Baldwin earn a third-place team finish Saturday. Bonner Springs and Saint James Academy tied for first with 147 points.
Baldwin scored 139.5 to place third. BHS finished third without sophomore Bryce Shoemaker, the Bulldogs' leading wrestler, who suffered a foot injury during practice three days before the tournament.
"Team wise, we obviously had some adversity losing our top points scorer," Harris said. "We rallied around that and tried to pick up for it as best as we can. We had some good wins and made a run at the championship."
Two other Bulldogs made the finals, but lost tough matches in the championship round. Junior Andrew Morgan took on three-time state placer Caleb Seaton of Bonner Springs in the 125 finals.
Morgan scored a reversal with less than 10 seconds remaining to take a 2-1 lead, but lost on a penalty point and escape as time expired, losing 3-2.
"As soon as I locked my hands, I knew it," Morgan said. "I tried to ride him out, but he got away at the last second."
Harris said Morgan wrestled well against a tough opponent and should be proud of match.
"Andrew had a tough loss against a three-time state placer," Harris said of Morgan. "It was a crazy ending, and he got caught with locked hands. It's OK, because he wrestled great, and it should be a confidence booster for him."
Morgan will be heading to the state tournament for the third time. He's aiming to win his first state medal this year.
"I'm excited for state," Morgan said. "I want to be a four-time qualifier and I'm hoping to place this year."
The other Bulldog in the finals was junior Cody Sellers (130). He lost an early lead and was taken down in overtime and lost 5-3. This year will be his first trip to Salina.
"Cody had a good tournament," Harris said. "It was a goal of his to make it to state. He achieved that. In the finals, he wrestled a great first period, but as the match went on, he panicked a bit because he couldn't find his shots. Then he got caught and taken down in overtime. He learned a lot from that match. He's ready to come back and wrestle at state."
Finishing in third place were senior Greg Schiffelbein (140) and junior Colton Bonner (215). Both wrestlers went 4-1 with three falls to earn a bronze. It is Schiffelbein's second trip to state.
"Our team didn't finish as high as we could have, but I'm pleased to get third," Schiffelbein said. "It's also nice to get a few new state qualifiers. It's definitely been a goal of mine to go back to state and place. I'm looking forward to next weekend. I'm excited to be going my senior year, too."
This year will be Bonner's first trip to Salina. He is anxious after wrestling well at the regional tournament.
"I'm pretty excited," Bonner said. "It's taken me three years to get here. I've put a lot of work in and now it's my time shine. Other than one match where I screwed up, I think I wrestled well all weekend. My back was against the wall. I had to win or go home."
Baldwin's other qualifier was freshman Tucker Clark (112). He finished 4-2 to place fourth in his weight class. In his qualifying match, Clark led 4-2 as time was running out. He scored a late reversal and then turned him to earn a pin with 0:01 remaining.
"I'm very excited," Clark said. "It's exciting to make it as a freshman. It was a grind today, but I made it through. I'm looking forward to state. It will be fn."
Senior Colby Soden (135) was one match from qualifying for state. He went 2-2 and lost a one-point match to just miss the placing round. He qualified as a junior. Soden did set a school record for nearfalls-2 in a season with 48, breaking Keving Callahan's previous record of 46, dating to 2007.
Coming two matches from placing were senior Keenan Coffey (189) and sophomore Mark Harman (160). Each won two matches in the tournament before being eliminated. Also competing in the tournament were sophomores Colton Horne at 145 lbs. and Carter Sudja at 152 lbs. Each went 1-2.
Friday's action begins at 10 a.m. at the Bicentennial Center. The wrestling will continue all day Saturday.
"Nobody is a definite placer, but they all have a chance," Harris said. "It's going to make it an exciting state tournament. It should be a lot of fun to watch them leave it all on the mat. It can be an emotional roller coaster."