Real World Design state trophy remains at
BHS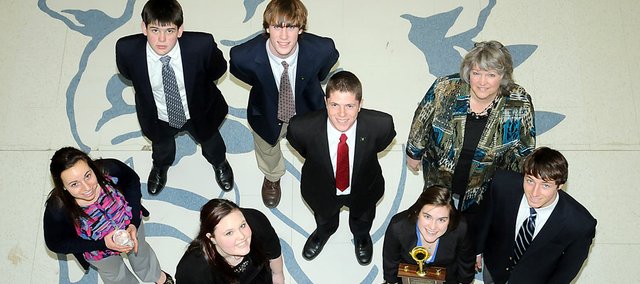 Baldwin High School has created an engineering dynasty that is undefeated in state competitions.
For the third-straight year, BHS won the annual Kansas Real World Design Challenge, which has been in existence only three years.
"The state trophy is a traveling trophy, in theory," BHS team coach Pam Davis joked. "It's never traveled, and we're not planning on it ever traveling."
Baldwin High was declared the winners last week as the announcement came down from the state. It was a joyous moment for all of the team members.
"It's very exciting," said sophomore Mackenzie Johnson, whose brother Mason was on the 2010 RWDC team that won the national competition. "It's incredible. I was so excited when I heard the news. I was really happy to join the team this year."
Senior Carson Barnes was also part of the national title team a year ago. In fact, he's the only BHS student to be a part of all three state championships.
"It's always really exciting," Barnes said. "It's definitely not any less exciting than winning last year. We felt the pressure a little bit. The only thing you can do is work harder and put in more hours than the other teams. Hopefully that will produce a better result."
Senior Brandon Baltzell agreed.
"It's nice to win state for the third year in a row," he said. "It's the second time for me. I really look forward to going to nationals. It was a tough challenge, but we have a lot of great mentors that help us."
Despite winning the state title, Baldwin High's RWDC team was unable to finish the project and Barnes was the first to admit its difficulty.
"They actually stopped giving out instruction on the project, because no one was getting that far," Barnes said. "They just told us to do our best, and they wouldn't judge us entirely on the result."
He also said no team in the nation was able to finish the state projects this year. Davis confirmed Barnes' statement.
"This project was harder and more complex this year," Davis said. "We were really excited that we got enough done to win again. We were a little nervous because we weren't able to finish the project, but I don't think anyone else did either."
The RWDC is an annual competition that provides high school students grades 9-12 the opportunity to work on real world engineering challenges in a team environment. Each year, the teams are asked to address a challenge confronting a leading industry.
This year's challenge was to use aeroelastic tailoring to design the exterior geometry and interior structure of an airliner wing in a manner that maximizes both fuel efficiency and aerodynamic efficiency.
"The challenge was much more complicated this year," Baltzell said. "We were really worried that there might be another team out there that could take it from us. With this type of challenge, it's blind competition. You really have no idea who you are up against. There's always a bit of worry, but we thought we'd do well at the state competition.
"They are taking into consideration that no team in the nation could finish the project. I think we are going to finish the state project first, and they may add something else for the national project."
The BHS team will represent Kansas in the national competition April 15-18 at the Smithsonian Air and Space Museum in Washington, D.C. BHS won its first national title a year ago. Four of the 2010 team members returned to the nation's capital in October for a White House Science Fair.
"We have new team members this year, so we will show them all of the ropes," Barnes said of taking his third trip to Washington, D.C., in a year's span. "It's kind of fun to be on the team again, because you know a lot of the good places to go."
Sophomore Kaitlyn Barnes, whose siblings Carson and Lauren were on the RWDC team in 2009 and 2010, and Johnson are the new team members this year. The other 2011 team members are sophomores Austin Kraus, Mac Halpin and Carrie Deitz.
The team's mentors are Sandy Barnes, mother of Carson and Kaitlyn, Ottawa; Mark Beyer, Wichita; Chris Hedden, Lawrence; and Andrew Hahn, Hampton, VA.
"I've never been," Johnson said of going to Washington. "I'm so excited. I'm counting down the days."
Before the Bulldogs can make the trip, they have weeks of engineering work ahead of them.
"We're looking forward to it," C. Barnes said. "They gave us a new challenge, so we have a lot of work."
The Baldwin High students want to defend their national championship.
"We are confident with our strategy," Baltzell said. "We will have to change up our presentation style to make it new and creative. Hopefully we can go back and be in the top three or hopefully win it."