LAC

show opens window to local artist's 45 years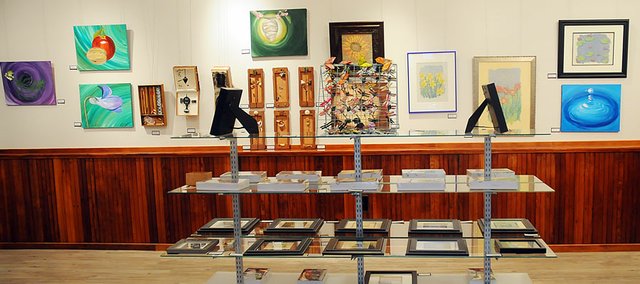 The phrase "I am" not only represents a piece of Marsene Feldt's "Blended Bits + Scintillating Symbols = JOY" art display, which opened Friday at the Lumberyard Arts Center, but it also represents a piece of herself.
The display features 65 pieces of acrylic paintings, pictures made of hand-made paper and assemblages, with the acrylic paintings giving a background into Feldt's life.
The 30 paintings on display were part of Feldt's larger one-man show in Lawrence called the "I Am a Work in Progress" series. She committed to making 45 paintings for the show because she was turning 45 years old, and these symbols represented 45 aspects she is working on at this stage in her life.
"That's why there's all these different, random images on these color backgrounds," Feldt said.
All the materials used for the display, except for the paintings, were recycled material she used to make the assemblages and bug figurines.
Feldt found the inspiration for the bugs' wings in the form of gum wrappers.
"I had a wrapper that just had this really pretty foil and I thought, 'you know, this is really too nice of a little piece of paper to throw away,' and it's ridiculous to keep a gum wrapper, but I started folding it and thought, 'you know, I could actually do something with this, like make bug wings,'" she said.
Most of the pieces in the display were created in the fall of 2010, when Feldt found time to create art between her job as art teacher at Baldwin Junior High and being a mother.
"I do the teaching thing all day, I do the soccer mom thing all evening, and then I do my own art on the weekends or late night," she said.
Feldt classified the time spent on the 45 paintings for the "I Am a Work in Progress" series as, "probably a good, hard three months of just, you know, whenever I could squeeze in some time."
The display is Feldt's first at the Lumberyard Arts Center, which began displaying artists' galleries in March 2010. Feldt's display will run through March 26, and while everything displayed is for sale, the art on the walls will remain up until the end of the show.
"I think, for a town this size, Baldwin (City) is blessed with an outstanding number of artists, and not just hobby artists either, real professional artists," Sandy Cardens, Lumberyard Arts Center gallery coordinator, said. "We could probably go through a couple of years just with local artists and not repeat anybody. I'm not going to do that, but we probably could."