City council reverses Chapel Street speed limit change, approves 6th St. increase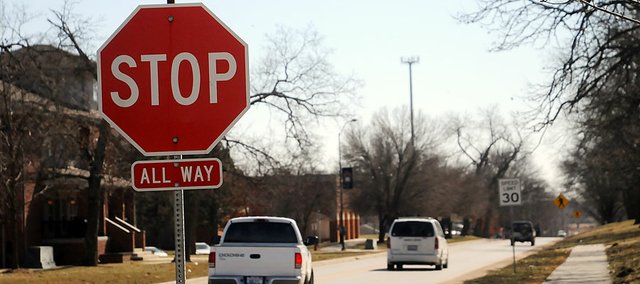 Rainbow Experience Preschool parents spoke out Monday at the Baldwin City Council meeting against proposed increased speed limits.
They were heard loud and clear. After a brief discussion, the city council unanimously approved to maintain the speed limit on Chapel Street in front of the preschool.
"I am pleased they kept the speed limit the same," REP Director Jill Venable said. "I was concerned that they were going to raise it. I'm glad they decided to keep it at the school zone speed."
While the speed limit on Chapel Street wasn't changed, it was increased from 20 to 30 mps on Sixth Street from Ames to Dearborn streets. All of Sixth Street is now 30 mph.
However, the concern Monday was Chapel Street. Two of the parents spoke to the city council regarding the ordinance to increase the speed limit on Chapel Street, between Sixth and Eighth streets, to 30 mph. Rainbow Preschool and the USD 348 District Office share the building that faces Chapel Street.
The ordinance approved on its first reading at the Feb. 7 meeting would have increased the speed limit on Chapel from 15 to 30 mph. That didn't sit well with the preschool director and parents.
"I'm concerned that 30 miles per hour is an excessive speed for the traffic that we see on a daily basis," Jill Venable said. "We have 50 plus kids coming in and out of our preschool five days a week and two to four times a day. That concerns me because that road will primarily be used by Baker drivers, who aren't experienced drivers.
"We think it would be a good idea to keep it at what it's at right now, which is 15 or 20. Thirty miles per hour seems a lot between those stop signs. It's only two blocks."
Gretchen Trendel, a preschool parent, made the same points.
"I just want to reiterate what Jill said," Trendel said. "There are kids everywhere during our drop-off and pick-up times. It would be really dangerous to increase the speed limit, especially with all of the other traffic changes right now."
The Rainbow group were also concerned about Chapel becoming a two-way street. The city council approved the resolution to make it a two-way street on Feb. 7.
"We are also concerned about people not knowing the street is now a two-way street," Venable said. "We need some signs posted on that road. But our biggest concern is the speed limit."
After listening to the public, several city council members said they understood the reasoning for wanting to keep the speed limit the same on Chapel.
"I think we would all like to see it changed to a two-way street," Ted Brecheisen said. "On the speed limit, after this discussion tonight, I gather that we are all willing to see it maintained at the present speed limit."
With that, the city council voted unanimously to approve the ordinance without section two, which was the increase on Chapel.
The next city council meeting will be March. 7.