Bulldogs drop two league contests before tonight's regular season finale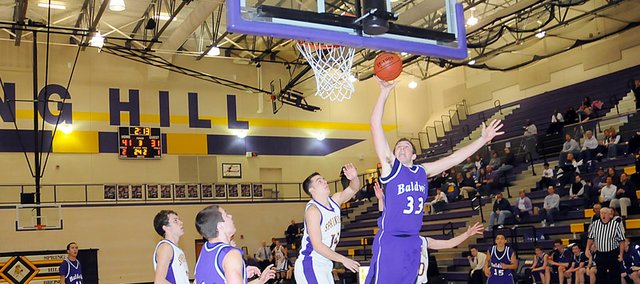 SPRING HILL — Although they were both losses, the past two Baldwin High School boys basketball games looked vastly different.
On Friday, the Bulldogs were energetic and competitive against a more-talented Ottawa team that sits tied atop the Frontier League standings. The Bulldogs fought hard to defend their court on senior night and nearly rallied to victory but lost 55-44.
They followed that effort up with a sluggish contest here Tuesday against a Spring Hill team that is tied with the Bulldogs for second-to-last in the league. Baldwin (7-12) fell 65-47 to the Broncos.
"It didn't carry over to tonight," coach Eric Toot said. "I felt like we lacked energy. When we continue to miss free throws and shots, the frustration level is building on our kids and our coaching staff. We just didn't have the energy tonight that we had Friday."
Baldwin led 2-0 when Senior Justin Vander Tuig, who led the Bulldogs with 16 points, scored the opening possession. Vander Tuig helped Baldwin take a 13-12 lead early in the second quarter with a free throw.
Senior Kyle Pattrick also made two foul shots to give BHS the lead back, 15-14, with 6:19 remaining in the second quarter. After a Spring Hill three-pointer, the Bulldogs never led again as the Broncos finished the half on a 16-5 run.
"We get down eight to 10 points and for us that's pretty hard to overcome because of our struggles to score the basketball," Toot said. "We make some big plays and get fouled. Then we'd miss some free throws. We'd also miss some pretty high-percentage shots, and then it kind of snowballs. Then the kids get frustrated. It's just been a struggle."
Baldwin and Spring Hill entered the game with similar records. Both teams were playing for their Class 4A sub-state seeding and Frontier League standing. The Broncos now own the advantage in both as they swept Baldwin this season.
"We had our sub-state seeding and league placing on the line," Toot said. "We just got outplayed and outcoached tonight. There's not much else to say."
On Friday, Baldwin played a much-closer contest against Ottawa. On the brink of being blown out, the Bulldogs came roaring back in the fourth quarter at home. In the end, the Bulldogs couldn't catch Ottawa as the Cyclones (15-3) ruined the Bulldogs' (7-11) senior night, winning 55-44.
"I couldn't be more proud of our kids and how we played tonight," Toot said Friday. "It was a joy to watch. I don't like to lose, but when your kids give that kind of effort, you can't complain as a coach."
Baldwin trailed 42-21 at the end of the third quarter. The margin was still 21 points, 47-26, with 6:31 remaining in the game. BHS went on an 18-5 run during a 4:42 stretch. Freshman Cornell Brown and Vander Tuig combined for 14 points during the spurt.
Brown hit a three-pointer to close the lead to eight points with 1:48 remaining. Ottawa finished the game with three free throws to win the contest.
"Obviously, they have some tremendous talent, and our kids didn't back down," Toot said. "We went right at them and hung with them. We kept fighting back and that makes you proud as a coach."
Ottawa outscored Baldwin 25-10 in the third quarter. Ottawa hit five three-pointers during the period. The Cyclones' Semi Ojeleye drained four long-range shots in the third quarter.
"I thought we played well all night and that's what I told our kids," Toot said. "When you have a Division I talent knocking down 25-footers with a hand in his face, there's not much more you can do. I thought we played well during their run. It wasn't like we were playing bad. They were just knocking down guarded threes."
Friday's game was the final home contest for Pattrick and Vander Tuig, who have played four years for the Bulldogs.
"I have nothing but the utmost respect for Kyle and Justin," Toot said. "They've been through some times the past couple of years, but they've stuck with us. They play hard and they are great leaders and teammates. It's been a joy to coach them and we're going to miss them both."
Baldwin will play at 7:30 p.m. tonight at De Soto for the final regular season game. The Class 4A sub-state will begin Monday. Baldwin will be on the road for the opening game.
"Hopefully, we can bring some energy Thursday and get some shots to fall," Toot said. "We'll take our chances and head into Monday. We have nothing to lose. We will be the underdog, so hopefully we will come out and place loose and free."