BHS

girls beat Broncos, edge Cyclones to get back in league race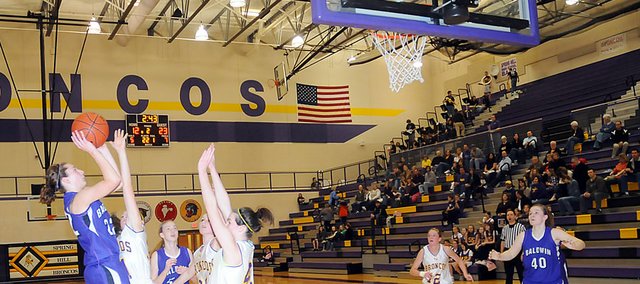 SPRING HILL — Bob Martin walked out of the gymnasium here Tuesday feeling quite happy and with plenty of reason to be pleased.
Four days after a last-second victory over Ottawa on senior night, Martin's Baldwin High School girls' basketball team crushed the Broncos on their senior night.
Before Friday, Baldwin (15-4) trailed Ottawa and Spring Hill in the Frontier League standings. After two big wins, BHS is tied with the Broncos and one game shy of Ottawa.
Add in the equation that Spring Hill had previously beaten Baldwin twice this season. Spring Hill won the first game 70-46 at Baldwin and then again 57-54 in the Top Gun Tournament championship contest.
"This was an important win for a lot of reason," Martin said. "It's a win we needed to keep ourselves in line for the league championship, for our seeding in sub-state and also for confidence to know that we can beat Spring Hill. They've beaten us twice so we needed this win tonight."
Baldwin controlled Tuesday's game from the beginning. BHS led by 20 points when Martin emptied his bench under two minutes remaining in the game. Spring Hill closed the gap, but Baldwin won 53-40.
"It was exciting," Burkhart said. "Obviously, we wanted to pay them back for beating us twice. We came in knowing we had to work hard all game and we did that. I feel like we deserved that win tonight."
The Bulldogs held Spring Hill to four field goals in the first half as it built a 29-16 lead. Spring Hill made four field goals in third quarter, but the Bulldogs increased their lead to 19 points, 45-26.
Baldwin's defense swarmed the Broncos in the first quarter. The home team scored the opening basket but only managed three free throws during the next 7:49.
"Defensively we were great tonight," Martin said. "We executed defensively very well tonight. We played great defense. They have a couple of really good players and we had to help as much as we could on them. Myranda and Ramie were assigned to their best players. I thought they did a very good job on them, but they also had a lot of help. The key was great team defense."
While the defense was shutting down the Broncos, Baldwin's offense kept scoring, despite missing many shots around the basket. Sophomore Monica Howard scored the first five points for BHS. Howard led the team with 12 points and 11 rebounds for a double-double Tuesday.
"We rebounded very well, especially in the first half," Martin said. "I know Monica had seven offensive boards."
Senior Ramie Burkhart agreed that defense was the key to victory.
"We knew that they are really quick," she said. "We had to play well defensively if we wanted the win. We focused on defense a lot in practice and it helped to shut them down."
Burkhart and Kailyn Smith also scored in double figures. Burkhart added 11 points, while Smith scored 10 in the win. Senior Allison Howard, senior Myranda Behrens and freshman Katie Jones each hit three-pointers during the second and third quarters, helping BHS build a 21-point lead.
"We ran the ball very well early," Martin said. "We got some good shots and layups out of our full-court game. I told them we are starting to get our groove on offense a bit. Finally things are running smoothly. We missed a lot of easy shots tonight. We are getting good shots and that's good to see."
Baldwin might have been aided by momentum from Friday's last-second victory against Ottawa. Behrens hit the game-winning layup with 1.3 seconds remaining as the Bulldogs beat Ottawa 36-34.
"It's really exciting, because we lost to Ottawa the first time in the same situation," Behrens said. "This time our entire team pulled through. We really worked together to get the win."
Behrens had a similar play earlier in the quarter, but was called for an offensive foul. On the final play of the game, she got the basket and a free throw after a blocking foul was called. She missed the foul shot and the final shot by Ottawa was off the mark.
"Coach wanted us to take the ball to the basket," Behrens said. "Whoever got the ball was going to drive. I was just happy I didn't get my third offensive foul of the game."
On the previous possession, Burkhart scored a layup out of the same offensive set. Her basket tied the game 34-34. Baldwin followed it up with a defensive stop and rebound.
"We got some big stops at the end," Martin said. "That last stop was huge. Last time we played them, they scored in that situation. We got the stop tonight."
The entire game was back and forth. The largest margin was a 5-0 lead for Ottawa at the beginning. The Bulldogs went on a 6-0 run in the third quarter to take the lead thanks to layups by Burkhart and M. Howard. The final quarter was filled with mostly free throws by both teams.
"I think maybe we are better at playing in a tight game or behind than with the lead," Martin said. "We executed so well down the stretch. We scored on our final three possessions. I'm really happy for our seniors. It was our seniors who executed on those last three offensive possessions."
Baldwin will play at 6 p.m. tonight at De Soto for the final regular season game. The Class 4A sub-state will begin Tuesday.