BHS

design team honored at Statehouse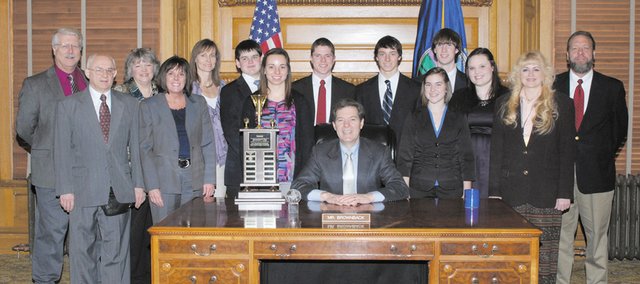 Students from Baldwin High School were honored Monday at the Capitol for winning the 2011 Kansas Real World Design Challenge.
The team, which beat 22 other schools, will represent Kansas in the national competition April 15-18 at the Smithsonian Air and Space Museum in Washington, D.C.
Baldwin High has won the state competition each year since the program started in 2009. Last year's team won the national competition.
The Real World Design Challenge poses engineering challenges. This year's was to design an airliner wing that maximizes fuel and aerodynamic efficiency.
Team members are Brandon Baltzell, Carson Barnes, Kaitlyn Barnes, Carrie Dietz, Mac Halpin, Mackenzie Johnson and Austin Kraus. The coach is Pam Davis.