Smith's four-point play propels
BHS

girls to victory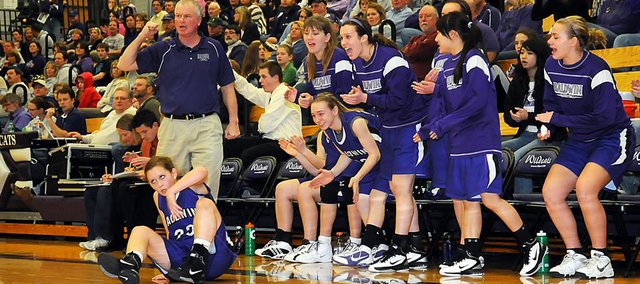 LOUISBURG — A rare four-point play by Baldwin High School sophomore Kailyn Smith kick started a run to victory here Tuesday night.
Combined with two free throws by BHS sophomore Katie Kehl, Smith's four-point play sparked a 20-3 run by the Bulldogs. The game-winning stretch began in the middle of the third quarter and ended in the middle of the fourth quarter with the Bulldogs leading by 11 points.
Baldwin (13-4) maintained its large lead during the final minutes. BHS won 46-36, sweeping the Frontier League contests with the Wildcats.
"I don't think we've won here in five or six years, so this was a good win for us," coach Bob Martin said. "They are a tough team. They are also physical and the game was very physical tonight."
Louisburg won the first of three meeting with Baldwin in the Anderson County Invitational in early December.
"It's nice to know we could come back and get them twice in the league," Smith said of losing the first game against Louisburg.
With 4:24 reamining in the third quarter, Louisburg sank its only three-pointer of the night, taking a 25-19 lead. One minute later, Kehl made two foul shots.
Smith's four-point play came with 1:43 left in the quarter. She was fouled as she shot a three-pointer. The basket went in and she made the free throw to tie the game 25-25. Smith made one foul shot a minute later to give Baldwin a one-point advantage.
"It was exciting," Smith said. "They were fouling us a lot so it was nice to make that three, too, and the free throw."
Baldwin pulled away quickly in the fourth quarter behind four points each from Smith and senior Ramie Burkhart. Senior Myranda Behrens added a pair of free throws during the run.
Senior Allison Howard added a three-pointer to give the Bulldogs a 39-28 advantage. Burkhart and Behrens combined to score the final seven points, all from the foul line, for Baldwin.
"I told the girls before the game that we are going to have to win with our defense and our defense kept us in the game when we struggled offensively," Martin said. "Then we finally made some plays in the fourth quarter by making some free throws and hitting some shots.
"She made some really big plays for us in the fourth quarter," he said of Smith. "She penetrated, hit some shots and made free throws. She played like the kind of point guard she is."
Smith admitted the win wasn't pretty, but they were happy to leave with a victory.
"We wish we could have played better, but we pulled it together a bit in the second half," Smith said. "We got the win and that's what matters."
Smith and Martin both said the game was physical, which has become a trademark of when the Bulldogs and Wildcats square off against each other.
"It's always a physical game," said the Bulldogs coach. "There were a lot of fouls called. The officials called it close, which I was happy about, because I knew how physical they were. We got in some foul trouble, too, but we were able to hang in there and play tough tonight."
The Bulldogs made only four field goals in the first half. Their offensive struggled were noted by their coach.
"We need to find our groove on offense, there is no question about that," Martin said. "We need to find that groove here in the next few games."
Smith led all scorers with 17 points. Burkhart added 15 to the Bulldogs win.
Baldwin's next opponent is Ottawa. BHS will play the Cyclones at 6 p.m. Friday at home.
"It's senior night and it's Ottawa," Martin said. "It's a key game for us if we're going to have a chance at the league race."