Six Bulldogs win league titles as team finishes runner-up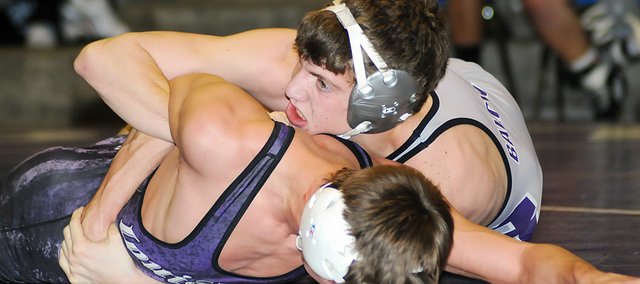 Colton Bonner needed a couple more seconds in his third match and Baldwin High School might be Frontier League wrestling champions.
The BHS junior needed a pin to keep the Bulldogs' hopes alive of remaining undefeated in the league dual format Friday. He maintained a lead over Spring Hill's Taylor Kettler for the entire match.
Needing a pin, Bonner took Kettler down in the final seconds and caught Kettler on his back with just three seconds remaining. What appeared to be a pin in the eyes of the crowd wasn't called by the official. Bonner, who went on to win the 215-pound league title, won the match 11-4.
"I was working for it hard the whole match," Bonner said. "I knew I needed a pin to help us win the dual. I was pretty excited I got the win over a pretty tough guy."
Senior Jesse Austin (285 pounds) pinned his Spring Hill opponent in 14 seconds. However, Baldwin lost the dual 36-34.
"That was an exciting dual," coach Kit Harris said. "That's what this sport is all about. It came down to the end. We had some things go for us and a couple things go against us. In the end, it was a great dual."
Baldwin finished the tournament 5-1 in duals, which placed BHS second as a team. Spring Hill went undefeated to win the league crown. Baldwin beat De Soto (46-33), Paola (43-24), Ottawa (57-15), Eudora (48-30) and Louisburg (51-25).
Last weekend was the first time the Bulldogs had wrestled competitively in two weeks. Their last tournament was at home Jan. 29.
"It was a fun tournament," Harris said. "It was a blast. There were a lot of positives over the weekend. It's fun to compete in duals as a team. Everything mattered in each match. For being off the last two weeks, I think we came out and wrestled strong from the start. It was exciting."
This year marked the first year for the league dual format. With Gardner-Edgerton's exit last year, the league is down to seven schools. The wrestling coaches agreed upon the dual format a year ago.
Thoughts on the new format differ from each BHS wrestler.
"I was pretty excited about it, but in the end I think it kind of hosed us," Bonner said. "I think we would have won if it was a bracket tournament."
Other Bulldogs, along with Harris, enjoyed the new format.
"We might have won in a bracket tournament," Harris said. "But duals are the way to go with seven teams. They are fun and you maximize your matches."
His wrestlers shared the same sentiment.
"I really liked the dual format," Austin said. "I'm more of a team type of guy and I really being there for the guys right after the match. It was pretty awesome to wrestle as a team."
Although it finished second as a team, Baldwin had six individual champions, which was more than any other school. BHS also had two runners-up and a third-place wrestler.
Along with Bonner, the other BHS league champs were junior Andrew Morgan (125), junior Cody Sellers (130), senior Colby Soden (135), senior Greg Schiffelbein (140) and Austin. Five of the Bulldogs went 6-0 in their weight class. Austin went 5-1, but won on the tiebreaker.
"It's exciting to be league champ," Austin said. "I lost my first match so I was a little down yesterday. I was hoping to come back and get third, but to get first is awesome."
Schiffelbein led the Bulldogs with pins as he won every match with a pin.
"Greg had a great tournament," Harris said. "To win every match by pin is a great accomplishment."
None of first-place Bulldogs had won the league title before, so they were each excited about their weekend.
"I was pretty happy," Morgan said. "There was one match I wish I would have gotten a pin to help the team out, but it was a good day."
Sellers and Soden were also pleased with their performances.
"I thought I wrestled well," Sellers said. "My shots were good and I stayed in position the whole tine during my matches. That was my plan all weekend. It feels good to be league champ."
"I think I wrestled pretty well," Soden said. "I came in wanting to win it and I did well. I'm happy to help the team."
Baldwin's two runners-up were freshman Tucker Clark (112) and sophomore Bryce Shoemaker (119). They were each 5-1 in the tournament. Senior Keenan Coffey (189) placed third after going 4-2 on the weekend.
"I didn't really wrestle much, but when I did I thought I wrestled well," Shoemaker said. "I wish I could have pulled off that last match though."
The Bulldogs will compete in the Class 4A regional tournament Friday and Saturday in Holton. The action will begin at 2 p.m. Friday and 11 a.m. Saturday.
"Everybody should be going into regionals with a full head of steam," Bonner said. "We had a lot of finalists and we wrestled well this weekend. We should do well at regionals, too."
Baldwin's coach is also hoping for positive results, but knows it will be tough.
"All of the regionals are pretty balanced," Harris said. "We have five or six guys that have a really good chance of going to state and another three or four that could go if they get a big win or two. Every year we have surprises at regionals."