BHS

boys hold off Louisburg's late charge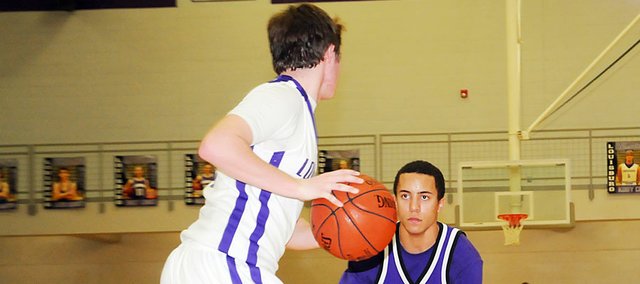 LOUISBURG — Baldwin High School's boys basketball team nearly let a 13-point fourth quarter lead slip away in the final minutes here Tuesday night.
A five-point lead with 15.7 seconds remaining in the game shrunk to just two points after Louisburg's fourth three-pointer of the quarter. A missed Baldwin free throw on a 1-and-1 opportunity gave the Wildcats a chance to win or tie with 5.9 seconds left.
Louisburg's David Embers' 10-foot shot missed off the front of the rim as Baldwin hung on to win 37-35.
"We didn't play very well down the stretch," senior Justin Vander Tuig, who led all scorers with 14 points, said. "We wanted to come out and play hard early and get an early lead. We were able to do that. We were able to hold on at the end and get the win."
The Bulldogs (7-10) led 34-21 after a free throw by freshman Chad Berg with 4:37 remaining in the game. Louisburg (8-9) came storming back by sinking four three-pointers in the final 2:30. Berg sank two big foul shots that gave BHS a five-point edge in the final seconds.
"That's what's scary when you let good teams hang around," coach Eric Toot said. "They have a couple of really good shooters, and they haven't hit anything all night. Unfortunately, the percentages caught up to us. The first one got them going and they continued to hit a few more."
Toot admitted the Bulldogs' struggles down the stretch could be attributed to him. Despite those struggles, he was proud of his players' effort in the victory.
"It was a great win," he said. "I thought we played outstanding for 29 minutes. You get in that situation as a coach where you want them to be aggressive but still play smart. It's kind of like prevent defense in football, but it's prevent offense in basketball. It comes back to haunt you sometimes. We didn't really get into our delay game, because we turned the ball over really quickly a couple of times. In the end, we will definitely this win at Louisburg."
Foul trouble plagued both teams early, especially with the post players. Louisburg's star Garrett Griffin was whistled for his third foul with 2:42 left in the first half. He spent the remaining minutes on the bench. Griffin's fourth foul came with 3:20 remaining in the third quarter, once again forcing him to sit while his team trailed by 12 points.
Griffin's fifth and final foul came with 4:37 left in the game. He finished with three points. His last foul came two minutes after Vander Tuig was called for his fourth foul.
Vander Tuig was whistled for two early fouls in the first quarter, but avoided another one until late in the third quarter. He fouled out with 23 seconds remaining in the game.
"The refs were calling a lot of fouls early on the big guys, so both teams had foul trouble," Vander Tuig said. "It worked out OK for us."
Baldwin sophomore Caleb Gaylord and Louisburg's Tyler Ewy also picked up two fouls in the first quarter. The fouls affected both teams, but Toot said it might have helped his squad in the end.
"The early foul trouble kind of worked in our favor," he said. "We weren't planning on playing too much zone tonight, but we went to it. Our zone was great tonight. We were active and talking. It protected our kids, because we had three kids with two fouls. At this point in the season, I was going to allow them to play through it because they were playing pretty good basketball. The zone allowed them to play through the foul trouble tonight."
Baldwin's next opponent is Ottawa. BHS will be the host the Cyclones at 7:30 p.m. Friday.
"They don't get any easier," Toot said. "The kids are excited about it. In the locker room, we talked about this game for a little bit and celebrated. Then they were talking about Ottawa. They were ready to move on. That says a lot about them."
It will be senior night for the Bulldogs as it's the final regular season home contest.
"I'm excited for Friday," Vander Tuig said. "It will be senior night. I'm ready to give it a go."