Road games swept by
BHS

basketball teams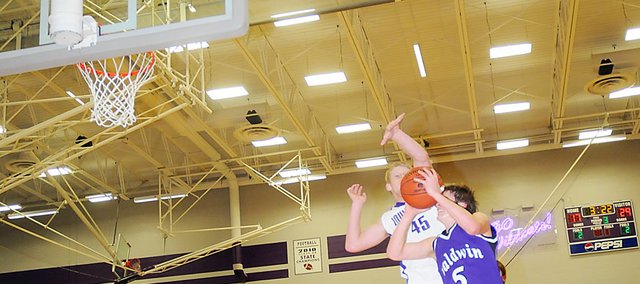 Boys basketball
LOUISBURG — Baldwin High School nearly let a 13-point fourth quarter lead slip away in the final minutes here Tuesday night.
The Bulldogs (7-10) led 34-21 after a free throw by freshman Chad Berg with 4:37 remaining in the game. Louisburg (8-9) came storming back by sinking four three-pointers in the final 2:30. Berg sank two big foul shots that gave BHS a five-point edge in the final seconds.
A three-pointer by Louisburg and a missed Baldwin free throw gave the Wildcats a chance to win or tie. However, their 10-foot shot missed off the front of the rim as Baldwin hung on to win 37-35.
Senior Justin Vander Tuig led the Bulldogs with a game-high 14 points.
Scoring summary
B — 12 11 8 6 – 37
L — 8 4 8 15 – 35
Baldwin — Chad Berg, 9; Kyle Pattrick, 3; Caleb Gaylord, 7; Dayton Valentine, 4; Justin Vander Tuig, 14.
Louisburg — Patrick Storey, 6; Adam Daugherty, 2; Nate Daugherty, 3; David Embers, 12; Kade Larson, 3; Garrett Griffin, 3; Ross Dvorak, 4; Tyler Ewy, 2.
Girls basketball
LOUISBURG — A rare four-point play by Baldwin High School sophomore Kailyn Smith was the play of the game here Tuesday as the Bulldogs (13-4) swept the Frontier League contests with the Wildcats.
Smith's four-point play came late in the third quarter. She was fouled as she shot a three-pointer. The basket went in and she made the free throw to tie the game 25-25. Smith made one foul shot a minute later to give Baldwin a one-point advantage.
Baldwin pulled away quickly in the fourth quarter behind four points each from Smith and senior Ramie Burkhart. Senior Allison Howard added a three-pointer to give the Bulldogs an 11-point lead. They went on to win 46-36.
Smith led all scorers with 17 points. Burkhart added 15 to the Bulldogs' win.
Scoring summary
B — 5 11 10 20 – 46
L — 5 13 7 11 – 36
Baldwin — Allison Howard, 4; Ramie Burkhart, 15; Myranda Behrens, 4; Kailyn Smith, 17; Katie Kehl, 2; Monica Howard, 4.
Louisburg — Marissa Mackey, 2; Emily Lemke, 4; Lark Hutchison, 2; Brook Vaughan, 4; Maggie Mackey, 2; Anna Bell, 7; Brook Frazier, 15.