Nutts to be honored at Chocolate Auction Sunday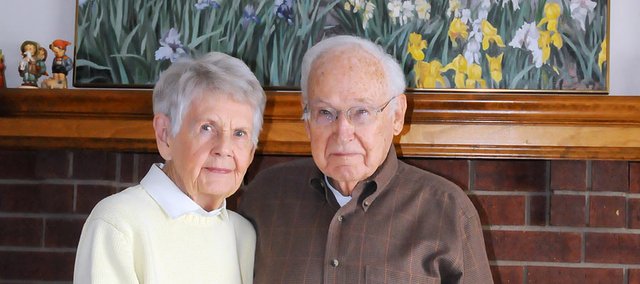 If their 65 years in Baldwin City and support for the arts in the community weren't enough reasons to honor Don and Ruth Ann Nutt, there's always one more.
They've been married 68 years.
There's never a better time to honor a longtime couple than on or near Valentine's Day. On Sunday, the pair of 89-year-old residents will be the honorees at the Baldwin Community Arts Council's 23rd Annual Chocolate Auction, which begins at noon at the Lumberyard Arts Center in downtown Baldwin City.
"It works out pretty good with Valentine's Day," BCAC President Tom Wilson said. "I will be fun to recognize someone outside of the realm of the arts."
Although they rarely celebrate Valentine's Day anymore, the Nutts said the last 68 years have been wonderful.
"We haven't really thought about it," Don said. "We just keep going. I don't think I could have asked for anyone better to be married to for that long."
They occasionally go out for dinner with friends, but this year they will be together at the Chocolate Auction the day before Valentine's Day. The honor came as a shock to the Nutts.
"We were quite surprised," Ruth Ann said. "We've always been involved with it since it started."
The BCAC normally honors an artist at the annual Valentine's Day fundraiser. However, this year the council made an exception for two residents who have lived in Baldwin since 1946.
"We are excited for Sunday," Wilson said. "Part of the reason is we had a great event last year, and we are really excited about the people that we are honoring this year. They are not only great people, but this might also have a neat valentine's angle because they've been married a long time. They also love the community and Baker University. They are awesome people. It takes good patrons who support the arts. It takes both parties to make that work."
Although the Nutts aren't artists, they are regular attendees at the Chocolate Auction. They've been at the event almost every year since it started 22 years ago. Ruth Ann said they may have missed the event once.
One reason they keep coming back is Ruth Ann's homemade hot cocoa mix. It's a special treat she makes for the event every year.
"I started making the chocolate drink, and I've done it every year," she said. "In fact, I've got it made now."
Wilson admitted he adored her hot cocoa mix.
"They've been wonderful by coming to the event and purchasing work for years," Wilson said. "Ruth Ann has made our special cocoa mix that we've used, not only at the chocolate auction, but other events that we've had. They've been pretty unselfish about giving."
The Nutts have purchased many works of art throughout their many years of attending the Chocolate Auction. Their house is filled with paintings by Tom Russell, Rosemary Murphy and other local artiss.
They have also supported Baker University, Don's alma mater, and USD 348 for decades.
"It's a good thing to support the arts and the community," Ruth Ann said. "It's something that we've always done. We do anything to support the community.
"We don't go to all of the games like we used to. For a long time, we didn't miss many games. We started sitting on the 50-yard line in 1946. We still try to sit on the 50-yard line."
This year's Chocolate Auction will be at the Lumberyard Art Center for the second-straight year.
"I think there will be a little bit different arrangement," Wilson said. "We will probably be moving some of the auction around. We are still having some space troubles there until we get the back auditorium finished. If the theater was there, it would be a great venue for the auction. But we are a little bit tight right now."
The Chocolate Auction is the main fundraiser for the BCAC, which sponsors the summer Art Walks and other events during the year. Wilson said without the community's support, the BCAC would struggle to provide college scholarships to local students.
"This is a big deal for us," Wilson said. "If we don't get this one event to be successful, then we will have trouble funding scholarships that we give to students. It's pretty much our only fundraiser of the year. All of the Art Walks are either neutral or cash negative, because we try to pay for a musical performance and we give out money to a patron."
The doors open at noon Sunday for the silent auction. The live auction with auctioneer Lester Edgecomb will start at 1 p.m.
"We also enjoy seeing people that we know," Don said. "It's also fun running someone up on the bid."