McCarthy makes history with Super Bowl crown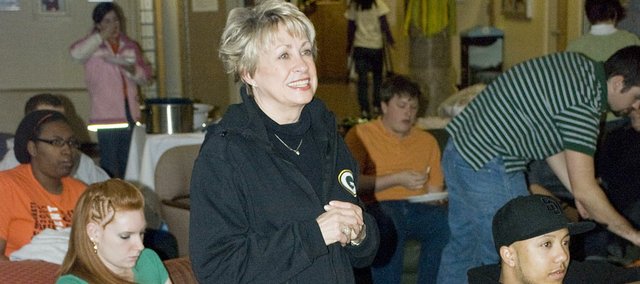 Mike McCarthy continues to make history for his alma mater Baker University.
The 1987 Baker graduate is now part of elite National Football League company. He led the Green Bay Packers to their fourth Super Bowl crown in his fifth year as coach of the storied NFL organization. His Packers defeated the Pittsburgh Steelers 31-25 Sunday in Super Bowl XLV.
"To me, he's at the top of the game at a very young age with a young football team and great organization," said Mike Grossner, Baker University football coach and former teammate of McCarthy's at Scottsdale Community College (Ariz.). "The sky is the limit."
McCarthy's former offensive line coach and retired Baker athletic director, Dan Harris, was at Cowboys Stadium in Arlington, Texas, to witness history. Harris and his wife, Peggy, enjoyed watching his former player hoist the NFL Vince Lombardi Trophy.
"I don't know if that's a describable feeling," Harris said. "It was very emotional. It made you immediately think back to where he came from and how far he's come. It was absolutely phenomenal.
"I'm still flying high. It's just unbelievable. Going to the Super Bowl was definitely on my bucket list. Now that I've been there, I have to go again."
Immediately after the game, Harris received dozens of text messages. He wasn't able to escape to Super Bowl without it being noticed. The story of his trip even made the Kansas City news last week. While receiving those messages, he made sure to send one to McCarthy.
"I sent him a text right after the game," Harris said. "I told I liked his game plan and I thought he executed it very well. I told him to sit back and enjoy the moment, because he deserved it. The next morning, he replied and told me thanks and it was an unbelievable experience."
Grossner also sent one to his friend and former teammate.
"I sent him a text after the game," Grossner said. "I told him congrats and the normal stuff, but I also said enjoy it because you overcame a lot. I told him I'd touch base with him later this week, because he's being bombarded right now, but in a great way. I'm sure he's exhausted."
Although Grossner and Harris watched the game from two vastly different places, one at home and the other inside the stadium, they both shared similar stories about the contest. They agreed the game was fun to watch as a football fan. On Monday, it was announced that the game was the highest-rated Super Bowl in television history.
"The game, from a fan's standpoint, had all of the drama you would want of a football game," Grossner said. "I felt pretty calm throughout the game. Green Bay took a hold of the momentum right away and established themselves as the better team."
Inside the stadium, it was loud but peaceful. Harris was surprised how fans of opposing teams didn't argue or yell at each other during the game.
"Being inside was amazing," he said. "The atmosphere was fantastic. It was two great football organizations playing. It wasn't a hostile environment. There were the Pittsburgh fans with their 'terrible towels' and the Green Bay fans with their 'go Pack go' cheer. The stadium was just a loud cheer the whole game. It was awesome."
Once the game ended, it was only one team's fans screaming and cheering. In fact, he said it was loudest during the final seconds of the contest.
"Once Aaron Rodgers took the final kneel down, the stadium erupted," Harris said. "The Packers fans were screaming and the finding anyone to hug or kiss. The Steelers fans were depressed. The confetti started falling and you couldn't see anything."
McCarthy and the Packers returned home Monday to a large crowd of fans in Green Bay (Wisc.). On Tuesday, the team celebrated at Lambeau Field. Once McCarthy has time to talk to Grossner or Harris, they would like to talk to him about returning to Baker University for a visit next fall and maybe show off his Super Bowl ring.
"We'll let him settle down first," Grossner said. "Then I think he'll make a trip back here. Hopefully we can find a time for him to come here and visit again."