City crews are well supplied with salt, sand for roads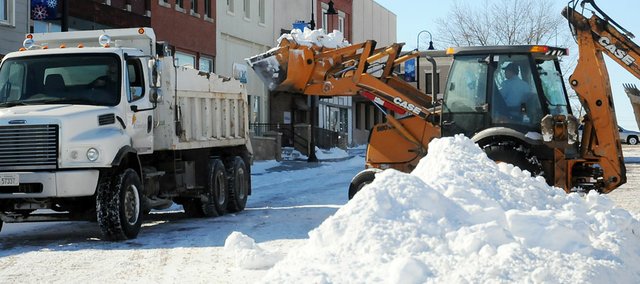 Despite last week's heavy winter storm and Tuesday's snowfall, the City of Baldwin City staff has plenty of supplies to treat the roads for the remainder of the season.
Last week's storm dropped around 10-12 inches of snow on the Baldwin City area. On Tuesday, a few more inches of white powder covered the ground. While the snowfall for the past month has been plentiful, the supply budget for the road crews appears to have plenty left in its reserves.
"As far as the 2011 budget goes, we've spent about one-third of it so far," said Baldwin City Administrator Jeff Dingman on Monday. "We'll see what happens this week. Then we might have more latter this month, you just never know. Hopefully, it will wear itself out."
Dingman said the city purchased 90 tons of supplies from the county to replace the dwindling supply after the large winter storm last week.
"We just buy the raw materials from the county," he said. "They have the raw materials and we just buy the salt and sand from them. We are pretty well supplied right now. We've used most of what we had before, but we got the new supply in so we are well stocked right now."
Although last week's storm was the largest of the winter, city crews used around the same amount of sand and salt as they did on any winter storm. Snow fell so fast Feb. 1 that it was hard for crews to keep plowing the roads until the storm slackened late that night. Once the snow stopped, crews cleared the streets and treated streets simultaneously.
"We used about the same as we normally do," Dingman said. "When we know a big storm is coming in, we do a lot of pre-treatment at intersections to prevent them from getting too slick, too fast. We still sand as they plow the roads."
The 2011 budget for salt and sand began Jan. 1. Because only one-third of the budget has been used in a little more than a month, the budget looks good. However, if there is a lot of winter weather in December, it might cause problems with the supplies.
"It's kind of tricky, because it has to last all year," Dingman said. "In 2009, when it snowed at Christmas, all of that came out of the 2009 budget and it was at the end of the year. That made it a little tough. It's nice when it snows in January, but you also don't want to use too much because you will need some when December rolls around."
According to meteorologists, this week's snow should be the last for a while. They are unclear if it will be the last for the winter, but warm weather is expected for the next 7-10 days.
"We ought to be getting pretty close to the end of it for this winter," Dingman said. "You expect the snow to start tailing off in February, but we will see what happens."