BHS

boys beat Cardinals, end losing skid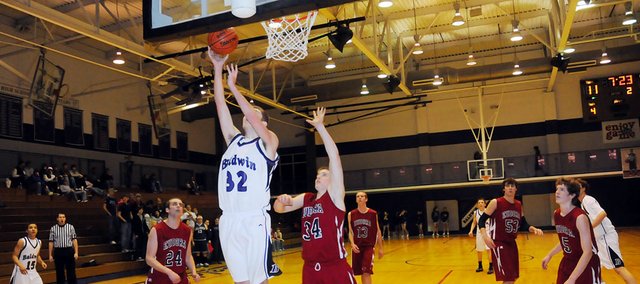 After losing six-straight games, the Baldwin High School boys basketball team enjoyed a much-needed victory Tuesday at home Tuesday.
The Bulldogs avenged a previous loss, which was the second in the string of losses during the past three weeks. They used a strong third quarter to open a large lead on Eudora. The Bulldogs (6-10) beat Eudora 45-26.
"This is our biggest win of the year, especially with what we've been through the last four days," coach Eric Toot said. "To come out here and gut one out is what we needed more than anything. I feel really good for our kids right now."
The six-straight losses, including Monday's loss at home to De Soto, began to take a toll on the BHS players.
"We needed a win so badly," Senior Kyle Pattrick said. "We were all kind of getting down. We were still coming to practice and working hard, but we really needed a win to get back on track.
"We've been playing game after game after game. Tonight, we decided that we had to win. Tonight was a make or break game for the season."
Baldwin used the third quarter to pull away from the Cardinals after leading by nine points at halftime. Freshman Chad Berg, senior Justin Vander Tuig and Pattrick all scored baskets to open the second half.
"Defensively, we played really well tonight," Pattrick said. "Offensively, we were making shots and moving the ball well. Everybody was being aggressive."
Sophomore Caleb Gaylord scored four of his game-high 12 points in the third quarter. Freshman Cornell Brown finished the quarter with a driving layup that drew thunderous applause from teammates on the bench.
"We were patient offensively tonight," Toot said. "Caleb Gaylord was tremendous. He was aggressive and had some big rebounds, along with Justin, on the offensive end that set the tone for us.
"We executed very well tonight. Our two freshmen guards are getting better every game. They are getting more confident and understanding what they can and can't do. It showed tonight. They played really well tonight. You know those two guys will battle and give you everything they have every game."
Baldwin maintained its large lead in the fourth quarter, despite not scoring for the first four minutes of the period. Eudora's offensive style, which uses large chunks of clock, wasn't beneficial as the Cardinals missed many shots Tuesday.
Baldwin started the game with a 6-0 run. Vander Tuig, Gaylord and Brown each scored during the first four minutes as the Bulldogs took an early lead.
"I told the kids the most important possession of the night was the first one," Toot said. "We played defense for about a minute and a half and then forced a turnover. Then we were able to go down and score. That's huge against them. If they get any type of lead, you start to get frustrated and press a little bit, because you know they'll just throw the ball around. To get an early lead, gave us a bunch of confidence."
Toot was proud of his bench players, especially junior Britton Schroeder. He noticed the junior was playing well during the junior varsity contest, and it carried over into the varsity game.
"Brit was great tonight," Toot said. "He had a great JV game. I like to watch the JV game and see how they are playing that night. He had a very good JV game and it carried over tonight. I thought he was great on defense in the varsity game."
On Monday, the Bulldogs battled De Soto at home, but a slow start doomed the Bulldogs. They scored two points in the first quarter as they fell behind early. De Soto maintained the lead and won 48-33.
"We all talked last night, and we were all upset that we lost," Pattrick said. "We all decided that we were going to take charge and play well tonight."
Baldwin will now rest a week before its final four regular season games. BHS will play at 7:30 p.m. Tuesday at Louisburg before hosting senior night Feb. 18.
"We will catch our breath here," Toot said. "We will do some shooting tomorrow and take Thursday off. We have some time, and we'll need it. It's been a long five days."