Second-straight Top Gun runner-up finish for Bulldogs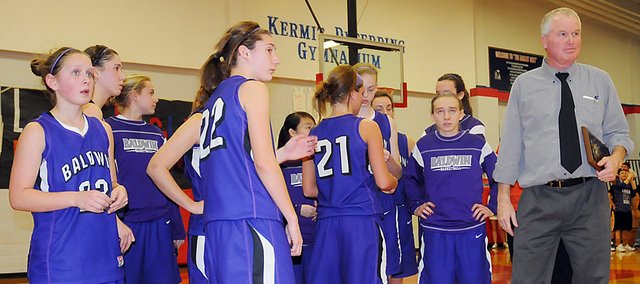 WELLSVILLE — Bob Martin's Bulldogs came seconds and three free throws away from avenging their second loss of the season here Saturday night.
Instead the Baldwin High School girls' basketball team finished runner-up in the Top Gun Invitational for the second-straight year. The Bulldogs fell to Spring Hill again as they lost 57-54 in the championship contest. Two weeks prior, the Broncos beat the Bulldogs by 24 points.
"I thought we played well tonight," BHS coach Martin said. "I thought both teams really played well. It was definitely a championship-type game tonight."
The players' disappointment could be seen on their faces during the postgame medal ceremony. After a few days to think about the game, senior Myranda Behrens took a positive approach to the loss.
"I think that the Spring Hill game was probably one of, if not, the best game of the season for us," she said. "I know everyone on our team wanted to win, and we had great teamwork."
With 0:52 remaining in the game, senior Allison Howard sank two free throws, giving Baldwin a 54-51 lead. Spring Hill's leading scorer Ericka Simpson made a pair of foul shots 10 seconds later, cutting the lead to one point.
Baldwin turned the ball over on its next possession. Simpson was fouled again and made two more foul shots, putting Spring Hill up 55-54 with 0:16.9 left in the contest. The Bulldogs again committed a turnover with 0:07. After fouling Simpson again, the Bulldogs faced a three-point deficit with 0:06.2 remaining.
"It was a wild one," Martin said. "It was a battle of two teams really going after it. We will get some better at some things and they will, too."
Sophomore Kailyn Smith rushed the ball up the court and found Howard, who was fouled on a three-point shot as time expired. Needing all three foul shots to force overtime, Howard's first shot rattled in the rim before bouncing out. Spring Hill escaped with the tournament championship.
"In all honesty, there is nobody I'd rather have there," Martin said of Howard. "That's the girl we want on the line right there. To hit three in a row is tough for anybody at any level. If I knew it would come down to that, and I could pick anyone to shoot, I'd pick her."
Neither team scored a field goal during the final 4:23 of the game. Both teams committed several turnovers and missed shots during the final minutes. Baldwin led 50-43 following Behrens' basket in the paint after a rare post-up on offense.
"It was a great championship game," Martin said. "We made a couple mistakes at the end, but we were right there with a chance to win it. I was really proud of the girls."
There were eight lead changes and the scored was tied 11 time. The largest margin was nine by Baldwin.
The Bulldogs and Broncos will meet again Feb. 22 in Spring Hill. They may also play again in the Class 4A sub-state tournament, which is in Spring Hill this season.
"We may see them a couple more times this season," Martin said. "We've gotten better since we first played them, and we're going to keep getting better."
Behrens wasn't shy about admitting she wants a third shot at the Broncos.
"I just told myself that tough losses in the season now are just more motivation to win the game in March that really counts," Behrens said.
Behrens, Howard and senior Ramie Burkhart made the all-tournament team. Howard led the Bulldogs in scoring Saturday with 14 points. Smith and Burkhart chipped in 12 and 10 points each.
The Bulldogs were scheduled to host De Soto Tuesday, but the game was postponed to Monday with the cancellation of school. They will travel to Ottawa tonight and Paola Friday for six-game nights. On Monday, they will host De Soto. Each night's action will start at 4:30 p.m. with the varsity team playing at about 6 p.m.
"We can't feel sorry for ourselves," Martin said. "We can't take a rest. We've got a tough week ahead of us."