Charity stripe struggles doom
BHS

boys in overtime loss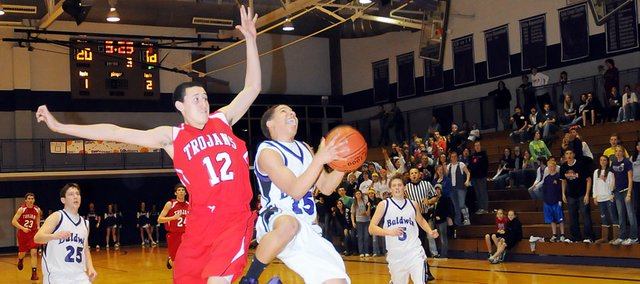 Eric Toot needed only two words to sum up Friday's Baldwin High School boy's basketball home loss to Osawatomie.
"Two words — free throws," said Toot, BHS boys' coach. "They made them. We didn't. We had a chance to pull away and we just didn't do it, because we couldn't make free throws. That sums it up in two words."
Toot was correct. The Bulldogs made 9 of 26 free throws, including a dismal 1 of 8 during the third quarter. Osawatomie made 21 of 30 foul shots to win 51-45 in overtime.
"Throughout the game we played very hard and also played very well," senior Kyle Pattrick said. "It hurt a lot just because if we make more free throws we win the game. With the game going into overtime, it made losing to them even harder."
Pattrick was one of the Bulldogs who struggled, despite being one of the better free throw shooters on the team. At the end of the third quarter, Baldwin hung on to a 32-26 lead before Pattrick was fouled on a three-point shot. In a rare occasion, Pattrick missed all three foul shots.
Freshman Chad Berg had the best percentage of the night for the Bulldogs. He shot 60 percent, making 6 of 10 from the stripe. The rest of the team made 3 of 16 free throws.
"Honestly, I don't know what happened," Pattrick said. "I guess we just had a bad night at the line. Nine for 26 from the free throw line will not win any games."
Baldwin started the game slow as it scored only two field goals in the first quarter. Berg and sophomore Caleb Gaylord made those shots. Gaylord sank a three-pointer two seconds before halftime to cut Osawatomie's lead to one point.
The Bulldogs built a lead in the third quarter as their offense scored 17 points, which was two more than their halftime score. Six Bulldogs scored during the quarter.
Osawatomie rallied early in the fourth quarter and took a 35-34 lead with 4:27 remaining in the game. Sophomore Dayton Valentine scored to give Baldwin a one-point lead. The Bulldogs led until 0:56 left in the contest when the Trojans converted an old-fashioned three-point play.
Baldwin had one final shot to win the game. Gaylord took a guarded jump shot, but it was blocked as time expired.
"We executed a nice play at the end," Toot said. "We drew that play up. We just have to be more aggressive in that situation and drive to the basket."
In overtime, senior Justin Vander Tuig made one of two foul shots to give Baldwin an early lead. Then the Trojans went on a 5-0 run. Baldwin didn't score again until 0:27 were left in the game. Osawatomie made 4 of 6 free throws down the stretch to win.
"You can look at all kinds of things in that game," Toot said. "It just comes down to they made free throws and we didn't."
The Bulldogs will travel to Ottawa tonight and Paola Friday for six-game nights. On Monday, they will host De Soto. Each night's action will start at 4:30 p.m. with the varsity beginning at 7:30 p.m.
"The next stretch of games will be very tough games," Pattrick said. "But just like after every other game this season, we will all be at practice working our hardest to become a better team and come out with some wins this next week."