Blizzard brings city, schools to near standstill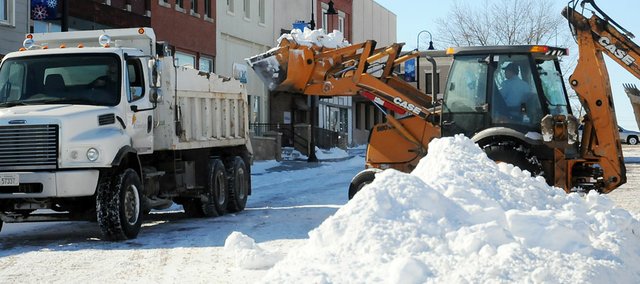 Baldwin City, along with much of the Midwest, was hit with a winter storm earlier this week that canceled school district and university classes and just about everything else scheduled for Tuesday.
On Tuesday, the largest single-day snowfall in years dropped about 10 inches of powder on the ground in Baldwin City. Wind gusts also made for wind chills in the minus-20 degree range. The large amount of snowfall kept city crews and local residents busy clearing snow through Wednesday.
"They are doing pretty well," Baldwin City Administrator Jeff Dingman said Tuesday afternoon. "Usually with a snowstorm, once it finishes they have a pretty good method of how they attack the roads. A couple going north and south and a couple going east and west. It's pretty systematic. However, right now they are just driving around town and pushing as they go. They can't really keep up with it. They may take a break for a while and get back after it later."
The road crews had trouble keeping up with the snow-covered roads Tuesday afternoon. The snow was falling quickly and backed by strong winds quickly covering roads that were once clear.
"I was out with them out for an hour," Dingman said. "We'd go down one road and then turn around trying to make the same pass on the road going the other way and you couldn't tell we even went down it. It's crazy."
Gov. Sam Brownback urged Kansans to stay home Tuesday, closed state office buildings and issued a declaration of emergency for Douglas County and 52 others in the state hit by the storm.
The governor's declaration would be the needed first step to the Federal Emergency Management Agency making a disaster declaration that could allow local governments eligible for federal reimbursement dollars for snow removal expenses or damages caused by the storm.
However after being shut out of snow removal reimbursement from the Christmas 2009 blizzard, Dingman was doubtful any FEMA money would be headed Baldwin's way for that expense, although the city was tracking its expenses. The city had no damages from the 2009 or latest storm, he said.
The winter storm forced USD 348 to cancel classes on Tuesday and Wednesday. The Baldwin district was one of many schools in the area that called off classes those two days.
Baker University's Baldwin City campus was also closed Tuesday and Wednesday. It was the first time in years that the university's main campus has been closed because of inclement weather, especially back-to-back days.
City crews began clearing the snow from streets Tuesday night after the snow stopped falling. By Wednesday morning, the city streets were clear and city crews were clearing the piles of snow.
USD 348's two missed days this week put the district one day over its allotment for the 2010-2011 school years, Superintendent Paul Dorathy said.
"I believe calling off today was the last one we had built in to the calendar," Dorathy said Tuesday. "I have to check that to make sure, but I believe it is our last scheduled snow day."
USD 348 canceled classes three days in January. The first winter weather day of the school year was taken in December.
If the district has used more snow days than it built in to the calendar, it will have to make up those days before the school year ends in late May.
"I will have to sit down with administrators and teachers to talk about how to make up that time," Dorathy said. "We are mandated to be in school at least a set number of hours, and we need to add time to make up for any extra snow days. This is the first time we've used more snow days than we scheduled since I've been here."