BHS

wrestling squad finishes sixth at home tournament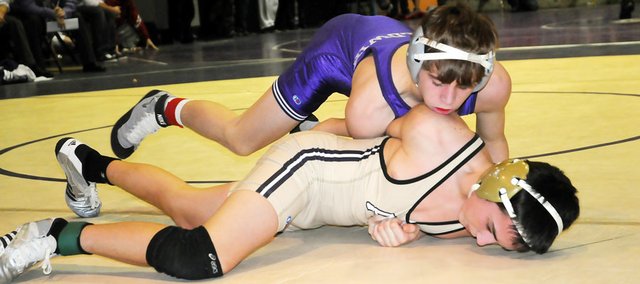 For the first time all season, the Baldwin High School wrestling team competed in front of its home crowd Saturday.
Eight Bulldogs finished in the top six of their weight classes at the 13-team Baldwin Invitational Tournament. As a team, the Bulldogs finished sixth with 164.5 points. Andover Central won the tournament with 309.5 points.
"I was really happy with our team finish," junior Andrew Morgan said. "Granted there were a couple of 4A teams that placed higher than us, which we would have liked to beat, but other than that it was a great job placing that high as a team."
Two of the team above Baldwin, Andover Central and Lansing (fourth), are Class 5A schools. Oak Park (Mo.) is one of the top teams in Missouri and it finished runner-up at the BIT. The only Class 4A teams above Baldwin were Clay Center (third) and Prairie View (fifth). The top four teams are all ranked in their divisions.
"It's a tough tournament," coach Kit Harris said. "That's one thing about when you have a bad match, you realize it's against some really good competition. That also comes with competing week in and week out. Those top teams are all competing for state championships. If we wrestle like I know we can, we can be up there with those top teams, which is what we are shooting for."
Although the Bulldogs had goals of finishing higher as a team, they still enjoyed the chance to wrestle at home.
"I really like wrestling at home," Morgan said. "Normally it's mainly the parents who come to the tournaments, because they are so far away but the home ones allow for our friends to come watch and support us."
The top finishers on the day were sophomore Bryce Shoemaker (119 pounds) and junior Cody Sellers (130), who each wrestled their way into the finals and finished second on the day with 4-1 records. Shoemaker lost to a Bo Pursel from Lansing who could become a four-time state champion.
Shoemaker had a 1-0 lead, but was taken down with 0:30 remaining in the match and couldn't make the difference. Shoemaker lost 4-1 to Pursel the week before. Pursel is the No. 1-ranked 5A wrestler.
"Bryce wrestled one of the top kids in the state to a great match," Harris said. "He put himself in a position where he had a chance to beat him."
Sellers lost by pin to Cody Brewer of Oak Park, who is nationally-ranked and has signed to wrestle for the University of Oklahoma next year.
"Cody Sellers finishing third was big," Harris said. "He had a great tournament."
Junior Andrew Morgan (125) and senior Greg Schiffelbein (140) each finished in third place in their weight classes. Morgan avenged an earlier loss to a Tonganoxie opponent to win 14-2 and finish third.
"Andrew Morgan wrestled great against one of the top wrestlers in the state in the semifinals," Harris said. "He lost a close match. Then he came back and had a revenge win against a kid he previously lost to and he beat him 14-2."
Morgan was thrilled with his tournament and his final victory.
"I think this was one of my best tournaments so far this year," he said. "I was able to come back and destroy a kid 14-2 in the third-place match who last weekend beat me in overtime."
Schiffelbein scored a late reversal with 0:30 remaining to win 5-3 over a Prairie View opponent in his final bronze medal match.
"Greg had a really strong tournament," Harris said. "He only had one loss."
Finishing in fifth-place were senior Colby Soden (135) and junior Colton Bonner (215), while seniors Keenan Coffey (189) and Jesse Austin (285) were sixth-place finishers.
"There was definitely both positives and negatives from Saturday, but more positives," Harris said. "Those negatives helped kids learn some very valuable lessons about what they can do and what they need to get better at. We've got to keep working at stuff. We can't just keep working hard, we've got to work smart, too. Most everybody is wrestling hard, but we need to pick that up a little bit, too."
Baldwin is scheduled to wrestle a home dual against Santa Fe Trail at 5 p.m. tonight. BHS will compete against Burlington and Osawatomie in duals Wednesday. The Bulldogs will also be hosting the Frontier League tournament, which is a team-dual format this year. It will be Feb. 11-12 in Baldwin City.
"I can't wait for the duals," Morgan said. "They are one of my favorite things about the wrestling season. It allows us to come more together as a team because everyone is depending on each other for the win."