Super Bowl winning coach was best sports story of past year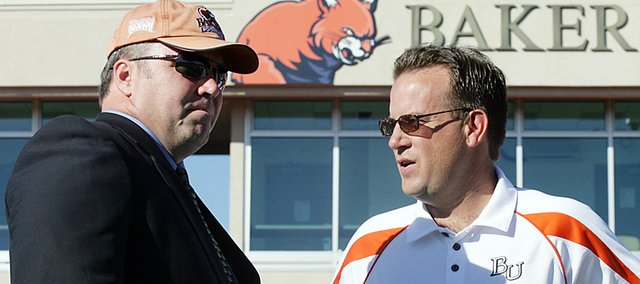 Baker University alumnus Mike McCarthy made history once again for his alma mater.
In 2006, McCarthy became the first Baker graduate to be hired as a National Football League head coach. He was hired by the Green Bay Packers and in his fifth season he coached the Packers to their first Super Bowl victory since 1997.
"To me, he's at the top of the game at a very young age with a young football team and great organization," said Mike Grossner, Baker University football coach and former teammate of McCarthy's at Scottsdale Community College (Ariz.). "The sky is the limit."
McCarthy, a 1987 Baker graduate, became one of 28 head coaches to win a Super Bowl when his Packers beat the Pittsburgh Steelers 31-25 in Super Bowl XLV.
"It's almost surreal," said Dan Harris, McCarthy's former offensive line coach and retired Baker athletic director. "I still look at him as a player that developed into the highest level of coaching. I'm so proud of him for his accomplishments. I tell him that a lot. What he's accomplished is absolutely amazing."
Harris was at Cowboys Stadium in Arlington, Texas, to witness history. He and his wife, Peggy, enjoyed watching his former player hoist the NFL Vince Lombardi Trophy.
"I was very appreciative that he was able to get me and my wife tickets for the Super Bowl," Harris said. "Being there was my first Super Bowl experience. My wife and I both had an amazing time. Not only where we at the Super Bowl watching Mike coach, but to go beyond that and win it was the ultimate experience.
"I am proud of who he's become," he said. "It's an amazing story. He's still so humble and he appreciates our relationship. We stay in touch. It's awesome."
McCarthy's success with the Packers brought instant attention to Baker University once his team won the NFC Championship Game and advanced to the Super Bowl. Harris and others were contacted by local news affiliates about McCarthy.
Even more attention came when McCarthy's Packers came to Kansas City, Mo., to play the Chiefs earlier this month. Harris remembers announcers talking about McCarthy coming back near his alma mater.
"His name and Baker are both used simultaneously," Harris said. "That's what's kind of amazing. He's put himself and Baker on the map.
"It's so great when you watch a game and the announcers begin to talk about him," he said. "They used to talk about the Packers, but now they talk about Mike McCarthy, too. That's cool. They say he is one of the most engaged coaches in the NFL, he's humble, he does his homework and he knows what he is doing. He has created an environment that's as good as you can get anywhere in the football world."
The Packers currently hold the NFL's best record with one game remaining in the regular season. They are the favorite to win the Super Bowl once again, so McCarthy could make history...again.