State,
HAAC

conference titles highlight success stories of 2011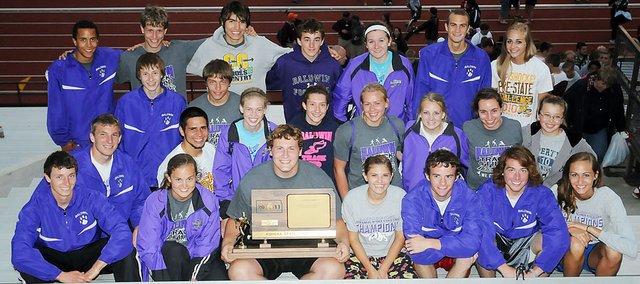 State championships, conference titles and more history-making events made 2011 a great year for Baldwin City.
This fall was arguably the best sports season of the year with Baldwin High School successes and Baker University teams making runs deep into the national tournament. Of course, with the highlights, come the not-so-happy events, such as coaches leaving or a former Baldwin City student suddenly dying.
Votes were tallied online and Baker University alumnus Mike McCarthy won the top spot for coaching the Green Bay Packers to a Super Bowl victory. Here are the next 10 sports stories of the year from Baldwin City.
1. Bulldogs sweep state track and field titles
For the first time in school history, both Baldwin High School track and field teams brought home state championships in the same year. In late May, the Bulldogs shared the state titles, a year after the girls' team won its first state championship.
Not only did both teams win, but both teams tied for the championship. The boys' team tied Louisburg with 43 points, while the girls' squad tied Colby with 41 points. Both BHS teams earned the tie and the titles on the last race of the meet ― the 1,600-meter relay ― with come-from-behind victories.
2. Girls cross country dynasty continues
Mike Spielman has built a girls' cross country program that is seeming unstoppable in Class 4A action. His Baldwin High School squad won its fifth-consecutive state championship in October. It marks the eighth state title in the last 10 years for BHS.
This year's squad wasn't as dominant as past years, but the Bulldogs still won the state meet by 26 points. Sophomore Katie Jones and senior Carol Whaley were the two medalists. Baldwin will be losing three seniors, but depth will keep the Bulldogs atop the preseason rankings next fall.
3. Baker soccer squads make deep run together
This fall was quite a special one for Baker University coach Nate Houser and his soccer teams. Both squads won the Heart of America Athletic Conference titles and both advanced deep into the NAIA tournament in Alabama.
The Wildcats hosted first-round games in November on the same day. Both teams were victorious. They headed to the final round of 16, where the men made history by advancing to the Fab Four and the women followed up last year's Fab Four performance with an Elite Eight showing.
4. PK shootout sends BHS boys' soccer to state
The Baldwin High School boy's soccer program also made history this fall. The Bulldogs qualified for their first-ever state tournament after losing in the regional championship several years since the program started in 2005.
Baldwin defeated Independence in a penalty kick shootout at home after neither team was unable to score during regulation and four overtime periods. Senior captain Louis Joslyn made the final winning kick for BHS. He celebrated with his peers in a dogpile on the field.
BHS lost to Rose Hill in the state quarterfinal, but several Bulldogs were awarded all-league, all-area and all-state honors.
5. Wildcat volleyball, cross country teams win HAAC titles
While the Baker University soccer and football teams received most of the attention this fall, two other Wildcat squads were having successful seasons. The Baker volleyball team won its first regular season Heart of America Athletic Conference title under coach Kathy Allen and finished the season 26-11. Allen also won her 300th career match at Baker during the season.
The other success was the Baker men's cross country team. The Wildcats won their first HAAC title under coach Zach Kindler, who was named HAAC Coach of the Year on the men's side. Aaron Caldwell, Corey Clark and Taylor Nall all finished in the top 10.
On the women's cross country team, sophomore Lauren Jaqua won the HAAC meet with a time of 18:30 in the women's 5-kilometer race. Ashley McBride grabbed a third-place finish with a time of 19:16.
6. Coaching changes at Baldwin High, Baker University
Each year brings changes in coaches at all levels of sports, but there were a few surprising ones during 2011. Eric Toot stepped down as the BHS boys' basketball coach in March. Assistants Chad Scoby and Jason Crowder also resigned.
Susan Decker resigned from her spot as head women's basketball coach at Baker University. It came as a surprise to many people around the Baker community.
Following the fall season, Kelly Brown resigned as the head volleyball coach at BHS.
7. Five Bulldogs sweep all six league titles
This year's freshman class at Baldwin High School accomplished something special at Baldwin Junior High School. Five girls helped the volleyball, basketball and track teams win the league championships in seventh and eighth grade. It was a feat never done at BJHS.
The five girls were Sierra Hall, Jordan Hoffman, Maddie Ogle, Emma Stewart and Corey Valentine.
8. Former Baldwin City relative dies after basketball game
On March 3, Wes Leonard, a high school basketball player from Fennville, Mich., collapsed on the basketball court seconds after hitting a game-winning layup for his high school's undefeated team. Leonard was pronounced dead at the hospital two hours after hitting the shot.
The news spread over the country, but it hit hard in Baldwin City, where Leonard and his family lived for years. The event inspired Baldwin High School students to raise money for a heart clinic, where dozens of local athletes were tested. Out of tragedy came a good cause and informative event.
9. Girls' soccer approved by school board
The USD 348 Board of Education unanimously approved a Baldwin High School girls' soccer program for spring 2012. It's a three-year trial program, where all of the costs will be paid for by parents.
The BHS soccer program was co-ed until the vote. The program will begin in March and interest is expected to be high.
10. BHS boys' basketball begins season 6-0
The season is still young and there's at least two months to go, but the Baldwin High School boys' basketball team is off to a hot start. After finishing last year 7-14, the Bulldogs, under first-year head coach Dustin Leochner, are 6-0 this season. Community interest in the program has always been high, but this fast start has attracted even more interest. The Bulldogs begin the 2012 portion of their schedule on Jan. 6.