Government changes, winter weather tops 2011 news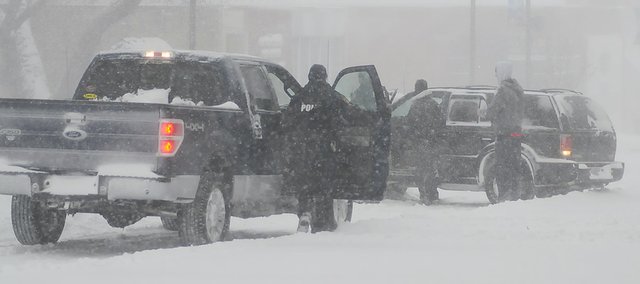 In some ways it's been a normal year for Baldwin City, but in many ways it's been an odd past 12 months in southeast Douglas County.
The normal things include many levels of success at Baldwin High School, local construction projects and weather issues that caused problems in the winter and summer. However, there were also many changes to local governments, a new school district building opening, salary raises for teachers and a rare occurrence on a prestigious magazine for Baker University.
Baldwin City Signal voters chose the top few stories of the year online during the past week. The top story was Baldwin City winning the Take Charge Challenge against Gardner, Ottawa and Paola. Here are the other top stories from the past 12 months.
1. Changes in city administration
In April, Jeff Dingman announced he was leaving his post after nearly eight years as city administrator of Baldwin City for a job in Fort Smith, Ark., at the end of May. Pam Irey, former assistant Douglas County administrator, was hired on an interim basis.
Chris Lowe was hired in early August to fill the position. He last worked in Pleasant Hill, Mo., but grew up in Pleasant Grove, so coming to Baldwin City was practically a homecoming for Lowe. He started the job in September and has enjoyed the position and Baldwin City since taking over for Dingman.
2. Baker University bible makes history
At 400 years of age, a King James Bible in Baker University's Quayle Bible Collection enjoyed some newfound fame. The "He" of 1611 Bible is one of two King James Bibles from the first year of its publication in the collection.
The Baker University Bible made history when it was photographed and displayed on the cover of this month's National Geographic magazine. On Dec. 4, Baker University held an event for the community to see the Bible and the magazine.
3. Blizzard shuts down city
On Feb. 1, Baldwin City and the surrounding area was hit with its worst winter storm since the blizzard that came on Christmas in 2009. It was the largest single-day snowfall in years as 10 inches of snow fell, which was combined with wind gusts making wind chills in the minus-20 degree range.
Many people were calling it the "snowmaggedon" of 2011. USD 348 and Baker University canceled classes for two days. City crews weren't able to begin clearing roads until night, after most of the snow had fallen.
4. Elections change government bodies
The Baldwin City Council and USD 348 Board of Education underwent drastic makeovers after the April election. New members made up the majority of each governing body following the local elections.
The city council welcomed Jason Mock, Shane Starkey and Coy Weege. They joined Tom Farmer and Bonnie Plumberg. Meanwhile, Sandy Chapman, Chad Christie, Nick Harris and Tony Wedel were voted to the school board. They joined Ruth Barkley, Bill Busby and Ande Parks.
5. New auditorium opens
Baldwin School District put the finishing touches on its newest facility in May. However, there wasn't enough time left in the school year to host any concerts in the new Performing Arts Center. The first production was this fall and it's been used many times during the first semester.
The PAC is the the new USD 348 auditorium that is in between Baldwin High School and Baldwin Junior High School. It's the multi-million dollars building that was approved by voters in the 2008 Bond Issue. It also serves as a FEMA tornado safe room for 1,800 people.
6. Third-place BHS engineers
The Baldwin High School Real World Design Challenge team followed up its national championship with another stellar performance in the spring in Washington D.C. The team of BHS engineers made the final once again and came home with third place.
7. Funding approved for 1055 project
Earlier this month, the Baldwin City Council unanimously voted to approve a temporary note for the principle amount of $2.325 million for the North Sixth Street project. This was the first step in starting the project, which is a joint-effort with Douglas County in expanding County Road 1055 for one mile north of U.S. Highway 56, while also adding curbing and guttering to the highly-traveled road to Lawrence.
8. New administration at BHS
Once Rob McKim and Frank Perbeck took over at Baldwin High School this summer, they were immediately well-liked by staff and students. The new BHS principal and vice principal welcomed visitors at enrollment in late July. Since taking over for Shaun Moseman and Bret Jones, McKim and Perbeck have been welcomed as Bulldogs.
9. Power substation upgrade
Baldwin City electrical crews improved its substation during two days in April. The city cut off the feed from Kansas City Power and Light and generated its own power during the repairs. There were concerns that it might cause a long outage, but the project ran smoothly. The Newton Street Substation is now able to handle a bigger load with its additional breakers.
10. Area construction projects
Baker University and McFarlane Aviation started two large construction projects this year. Baker University held a groundbreaking ceremony this fall for its renovation of Mulvane Hall, which is expected to be completed before classes start next August.
The Vinland Airport is nearly finished receiving its upgrade. McFarlane Aviation has nearly completed its project of adding a 24,000 square foot building, which will help expand its operations.