Expansion, renovations of Baker's Mulvane Hall on track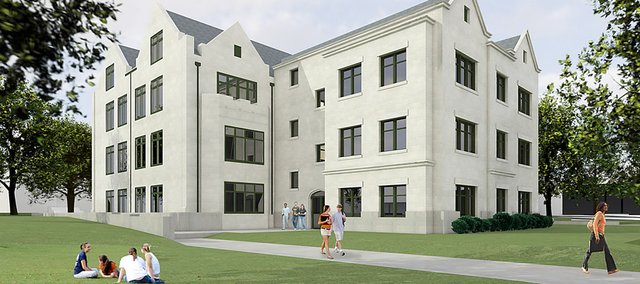 Construction is beginning to take shape on an expanded and renovated Mulvane Hall, Baker University's science and mathematics building.
The steel frame of the building addition should be visible after the first of the year, said Jeremy Portlock, director of the physical plant at Baker.
Renovations to the existing structure are proceeding as scheduled, and the building should be ready by summer.
"We expect to be able to move into the building by the first day of classes on Aug. 22," Portlock said. "Hopefully the weather holds out for us and stays good for us."
A 9,000-square-foot addition is set to be open by the end of 2012. A greenhouse has been moved about 100 feet to the south from its original location to make room for the new space.
An anonymous couple donated $3.5 million in support of the $10.3 million project, which encompasses the renovation and new construction. Pat Long, Baker's president, said at an October ceremony for the project that the donation was the largest gift in the university's history.
The new complex will be named the Ivan L. Boyd Center for Collaborative Science Education, at the request of the donors.
Boyd was a faculty member from 1941 to 1972 and had generations of his family attend and work at the university after his service on the faculty.