Offensive woes to blame for
BHS

girls' loss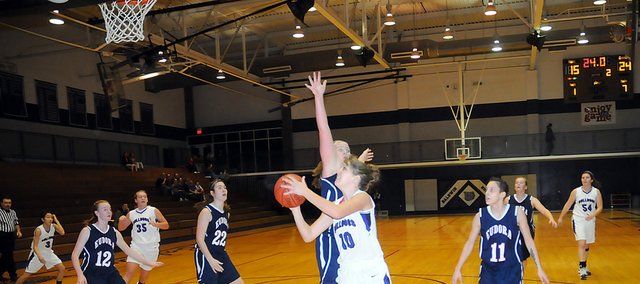 Baldwin High School's girl's basketball squad struggled offensively Tuesday during its final game before winter break.
The Bulldogs were unable to find any offensive rhythm and went through long droughts without points as they fell to 3-3 on the season. They lost to rival Eudora 40-28.
"It was pretty tough," junior Kelsey Dighans said. "I don't think our heads were fully in the game. We were trying hard, but something wasn't clicking tonight and we weren't there tonight."
The 28 points was Baldwin's lowest offensive output of the season.
"We never gave ourselves a chance offensively," coach Bob Martin said. "Our defense struggled in the first half, but we played well defensively in the second half, enough to get back in the game. We just never got anything going offensively to really challenge them. Every time we had a chance, we didn't shoot very well. We had too many turnovers. We never put ourselves in a position to really threaten them."
Like the Cardinals, the Bulldogs were busy with finals in the classroom and excitement for winter break, but they also dealt with some sickness. However, their coach doesn't want to make excuses for the loss.
"I don't want to make an excuse," Martin said. "Eudora played really well and they outplayed us. We should be able to handle that adversity. Everybody goes through that stuff, too. We can't use that as an excuse. We just didn't show up tonight."
Two of Baldwin's leading scorers through the first five games were held scoreless Tuesday. Junior Katie Kehl and sophomore Katie Jones both scored zero points for the first time all season.
"Oh yeah, exactly," Martin said of the struggles for Jones and Kehl. "Katie Jones is a big part of our offense and Katie Kehl is, too. We need those girls to be producers. Eudora did a good job defending inside and covering up our post players. Katie Jones was sick tonight and that was the problem with her. She really struggled tonight. Our other girls need to pick up the slack. We need to be successful if one of our girls isn't playing well."
Baldwin hung tough with Eudora early in the game. However, BHS scored only two points in the final 3:13 of the first quarter as Eudora took the lead.
The Cardinals built on their lead in the second quarter. It was 10 points after they hit a three-pointer, but Baldwin whittled it down to seven at halftime, thanks to three points from Dighans.
"Our shots weren't falling," Dighans said. "We tried as hard as we could. If we would have been able to get the ball inside, it would have been a much closer game."
The second half was much of the same. Baldwin slowed Eudora's offense, but couldn't find any rhythm itself. BHS scored only 11 points in the second half.
"(Eudora) shot well," Martin said. "We gave them some open looks and they hit them. That's kind of how it is in this league. The team that shoots well is probably going to win that night and they shot well. We didn't shoot well all night."
Baldwin will next play Jan. 6. Martin and his players hope to use the winter break to fix problems that have arose this season.
"Hopefully, we'll come back really focused and dedicated," Martin said. "We'll get after it and get better. That's what we are trying to do."