Local grads enjoy time spent at Baker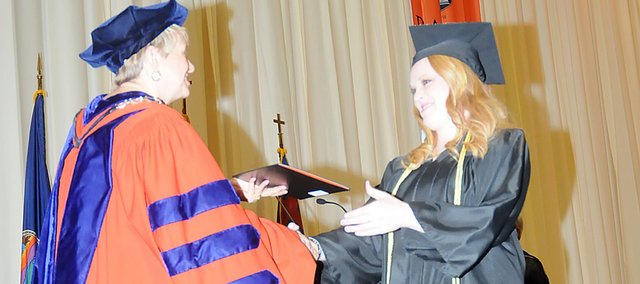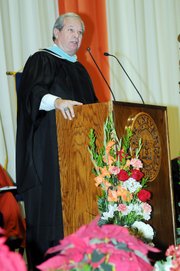 Mindy King and Carly Young were happy to finish their college careers in their same town they graduated high school.
The pair of Baldwin High School alumnae weren't anxious to graduate from Baker University, because they were labeled townies or because they were ready to leave town. In fact, they both enjoyed their time as Wildcats and Sunday's commencement ceremony was bittersweet.
"Graduation was kind of surreal," Young said. "I guess I knew it was happening, but I still don't feel like I'm finished. I remember freshman year thinking, 'oh, my gosh, I can't wait until I graduate,' and now I kind of wish I was still in school. It's a weird feeling, but I'm definitely glad to be finished."
King shared a similar sentiment.
"It was very exciting to graduate yesterday," she said. "It doesn't seem real for college to be over. I am a fifth year senior due to switching majors, so I have been ready to finish for a while."
King and Young were two of 334 students who earned their bachelor degrees Sunday afternoon. Unlike most students, they did it in the same town they call home.
For many BHS graduates, the idea of staying in Baldwin City and attending Baker University is scary. They would rather leave home and experience college elsewhere. However, King and Young were just the opposite.
"I was not a traditional student so I didn't live on campus, but when I was on campus at the library or in class I truly felt that I was in another town," King said. "Baker is its own little community so it didn't really feel like I was in Baldwin all the time."
Young also said Baker students can separate themselves from the rest of the city, so local graduates should consider Baker for the simple fact of having free laundry or food nearby.
" Graduating in the same town was kind of nice," Young said. "I'm not really big on change, so being in the same community was...comfortable, I guess you could say. I never lived on campus so I never had the 'real' college experience, but I loved my time at Baker. I feel like if you're a Baldwin grad and you want the college experience you can still get that and go to Baker. And you'll still be close enough to home that you can have a home cooked meal every once in a while."
By the time Sunday afternoon rolled around, the pair of local students could have cared less where they grew up. The sound of the familiar bagpipes and former Athletic Director Dan Harris' voice, made Sunday a day they won't soon forget.
"I love the bagpipes," King said. "The second I heard them, I got goosebumps and felt pride."
Harris was the keynote speaker at Sunday's ceremony. He was Baker's athletic director for 14 years before retiring at the end of the 2008-2009 school year.
He talked to the graduates about their generation, which is much more technological than the previous ones to leave Baker University.
"My message is to you, the millennial generation," Harris said. "You've been labeled 'generation Y' by historians. You have been one of the most watched over generations with safety nets like helicopter parents. We have helped you and set high standards for your accomplishments. You are our future. So, before your day is over ― thank a teacher or thank your parents. They've helped make your dreams come true."
He also addressed many of the aspects of life that have now become routine for this generation of graduates.
"You excite me," Harris said. "I'm so envious. I want to be a part of your generation. So, here I come. To be more like you, I start my morning every day with 45 minutes of Facebook. That's right, Facebook. I currently have 568 friends. I even have Lady Gaga on my iPod. Yes, I have an iPod.
"You millennials live in a world of acronyms," he said. "You have OCD, ADD and you get in trouble with MIP and DUI. Then you LOL and OMG. But we do need to listen to you."
Harris also shared a story about his 9-year-old grandson. He was at his grandson's soccer game, when his grandson wanted to ask him a question during a tied contest. Harris thought his grandson wanted advice on how to win, but that was far from the truth.
His grandson instead asked him, "Papa Dan, ask mom what the snack is after the game."
"I was stunned," Harris said. "I had no idea what the snack was and I had no idea where his mother was, so I couldn't even ask her. It took me several days to realize what my grandson thought was important. I was focusing on my needs and not his.
"We do need to listen to you," he said. "We need to focus on what is important to you. We need to teach you, coach you and guide you based on what you think is important, so we can maintain your interests. You are our future. And we, the teachers need to remember, those who are taught by us will teach others. I'm asking you to make a difference for the children of your generation. I hope nothing but the best for all of you. Good luck on your journey."
His speech was enjoyed by the graduates.
"I thought Big Papa Dan's speech was awesome," Young said. "It was nothing less than I expected. It was entertaining, inspiring and not too long/ He's always got something witty to say and his speech was no exception. I couldn't stop laughing."
Young and King both earned bachelor of science degrees in elementary education with honors. While their stories seem similar, their immediate futures are vastly different.
King plans on substitute teaching until she can find a full-time job as a teacher. Meanwhile, Young will be leaving Baldwin City for the first time since moving here 12 years ago.
"Now that I've graduated, I'm moving to Utah. I don't like change, but it's just something I feel like I need to do, so I'm going for it. I don't have a job lined up or anything, but I figure if that's what I'm supposed to do everything will work out. So, I'm taking a leap of faith and starting out somewhere new."