Bulldogs finish third at Ottawa dual tournament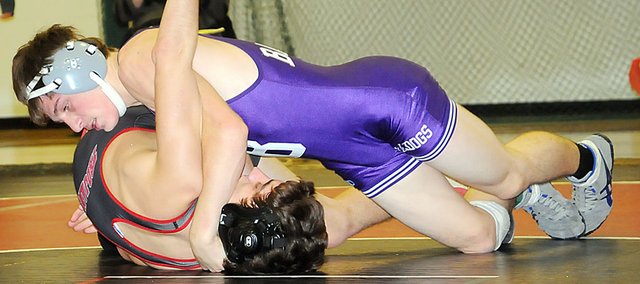 Ottawa — Despite being a much-less experienced squad than a year ago, the Baldwin High School wrestling team finished third at the Ottawa Dual Tournament for the second-straight year.
Last year's squad was filled with a handful of seniors. This year's varsity line up has many underclassmen, but it produced a similar result.
"We did surprisingly well," senior Andrew Morgan said. "I didn't know how we were going to do, since we have a bunch of new, younger kids on our team. Last year, we took third, too, with more experienced kids. The guys who we needed to step up, stepped up and we did well as a team."
Baldwin finished its duals 4-1 with its only loss to Valley Center, who won the tournament. The Bulldogs had an overall record of 48-12 with 20 wins by pin.
"We wrestled hard," coach Kit Harris said. "Our young guys really made improvements at this meet. Our first two meets were really tough and this one wasn't quite the caliber, but it had decent wrestling. Our young guys got some wins and they saw some of the benefits of wrestling tough competition."
Baldwin began the day with an easy win over Highland Park, 65-18. The second dual was against Valley Center. The Bulldogs lost 42-24 to the eventual champs.
However, they rebounded by destroying Anderson County 65-4 and stomping Osawatomie 59-24. Their final dual was against Burlington, who finished second in the other pool. Baldwin easily won again, winning 51-27.
"I like dual tournaments," Morgan said. "You get to watch everyone's matches, you know when you are going to be up and it gets everyone into a more team atmosphere."
Morgan was one of six Bulldogs to finish the day undefeated. The other 5-0 wrestlers were sophomore Tucker Clark, junior Bryce Shoemaker, senior Cody Sellers and junior Jason Von Bargen. Sophomore Grayson Langham also went 2-0 on the day.
"I wrestled well," Morgan said. "It was one of my better days. I don't think my competition was great, but I was hitting my moves hard."
Harris was proud of Sellers and Von Bargen on Saturday.
"Cody Sellers was our varsity wrestler of the week," Harris said. "He's improved on things we've been working on. He had a great day.
"Jason's 10-4 in his first full season on varsity," he said. "He's been a really nice surprise for us. He's really improving and getting better each week. He has beaten or lost close matches to state-ranked guys."
Other Bulldogs with winning records were freshman Jon Pratt (4-1), sophomore Ben Huntington (4-1), junior Colton Horne (3-2), sophomore Joe Chapman (3-20 and junior Colton Bonner (4-1).
"It was a great day for us," Harris said. "Our good guys had really strong days and our young guys got some wins and more matches."
Like every team, the Bulldogs will take some time off during the winter break. Once they begin practice again, they are hoping to use it to improve before the season gets busy in January.
"I'm going to focus on technique, conditioning and stretngh training," Harris said. "I also want to take advantage of this time to help our young guys."
Baldwin's next tournament is Jan. 7 in Bonner Springs.
"I wasn't worried about the first two tournaments," Morgan said. "I knew they were going to be tough. The beginning of the year doesn't matter. It's all about how we end the year. We've been working hard on our shots and it's showing, because people are hitting their moves harder. I think we're going to keep working harder over the break and hopefully we come back better than we are now."