Brown's 26 points lead
BHS

boys past Cardinals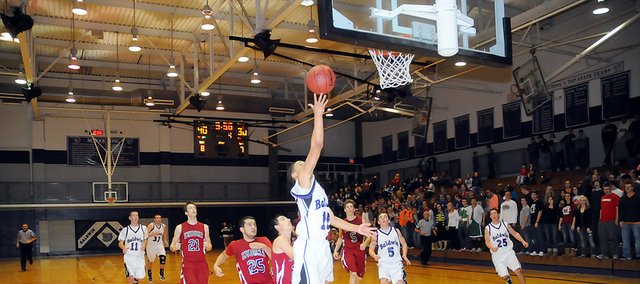 Baldwin High School sophomore Cornell Brown propelled the Bulldogs to a 6-0 record before the winter break with a win over rival Eudora on Tuesday night.
The BHS point guard led all scorers with a career-high 26 points as the Bulldogs won 55-45. The Bulldogs are unbeaten heading into the winter break for the first time in years.
"It was exciting to get out there and play," said junior Dayton Valentine, who played his first game of the season Tuesday. "We played well. We had a lot of momentum heading into the game and we played well. It was fun.This gives us some confidence heading into Christmas break."
Baldwin's coach Dustin Leochner was excited to get the win, but knows his team must continue looking ahead.
"I think that's the best team we've played so far," Leochner said. "(Andrew) Ballock is by far the best player we've played against. We told our guys coming in that this was our biggest test and we needed to come out and get a win against a good team. This is a good win for us. It feels good to be 6-0. We told the guys we have to keep getting better, because we have some good teams coming up on our schedule and in our league. Our ultimate goal is to make some noise in March, so we can't be content right now."
Brown scored 16 of his 26 points in the second half. He sank a pair of three-pointers and made 8 of 11 free throws in the victory. He scored nine straight points for Baldwin during the fourth quarter.
"He dropped 26," Valentine said. "That's fun to watch."
His coach was also proud of him, but said he still has areas to improve like every player.
"Cornell played great tonight," Leochner said. "He had some things I wasn't sure he could do. He does some special things, but he does some bonehead things, too. He takes shots too early in possessions at times. But he's getting better and he's trying to improve. If he makes a mistake, he makes an adjustment to correct his mistake."
Early in the game, Brown and Eudora's star sophomore, Andrew Ballock, were matched up against each other. Both players fed off of the energy of the other, while trying to make plays for their team. Tuesday was the second straight game where Brown has been matched up against the opposing team's star.
"He's a competitor," Leochner said. "Every single one of our guys are competitors. We've got a really, pretty hard-nosed group. We're trying to get them to be a bit tougher and take some charges. They compete and they do what we ask them to do."
Brown helped Baldwin build an early lead. He scored seven points in the first quarter as BHS took an 18-11 lead after the first eight minutes. Eudora closed the lead to two during the second quarter, but the Bulldogs finished the half with an 10-2 run.
"We're calm under pressure, especially for having as many young guys as we have," Leochner said. "The minutes they got last year are paying dividends this year. The don't get rattled and we talk about that, too. We want them to have fun, but not ride the roller coaster."
The Cardinals never got any closer than nine points in the second half. The Bulldogs made their free throws down the stretch to seal the win. BHS made 17 of 25 foul shots for the contest.
"We shot them better tonight," Leochner said. "We'd like to be up around 80 percent. This team wasn't a good free throw shooting team last year and we are working to get better. We've introduced a little competition with free throws in practice to put their pride on the line.
"We want the ball to go into our bigs and they are going to get fouled," he said. "Cornell, with the way he drives, he's going to get fouled. Same thing with Chad in breaking pressure full court. If we're playing games within 10 points, free throws are going to be huge."
Brown was the only Bulldog to score in double figures. Sophomore Chad Berg scored nine, junior Caleb Gaylord added eight and senior Alex Twombly chipped in seven points.
Despite the win and Valentine's return, the Bulldogs have yet to play a game with all of their varsity players in action.
"We still haven't played a game at full strength," Leochner said. "Britton Schroeder was out with the flu tonight. Luckily, depth has been a big strength of ours."
Once Schroeder returns, the Bulldogs will be at full strength. They don't play again until Jan. 6.
"We have a good chemistry going on right now," Valentine said. "We just need to fine tune some things fundamentally. We still have a ways to go, but we'll be good."
The winter break will be a nice rest for the Bulldogs. Meanwhile, their coaches will be reviewing film before the team starts practice after Christmas.
"This will give us coaches a time to break down some film," Leochner said. "We'll be looking at highlights and areas where we need to improve. We'll zero in on those, get some shots up and work on some things. We'll be ready to go in January."