Fourth-quarter rally propels Bulldogs to victory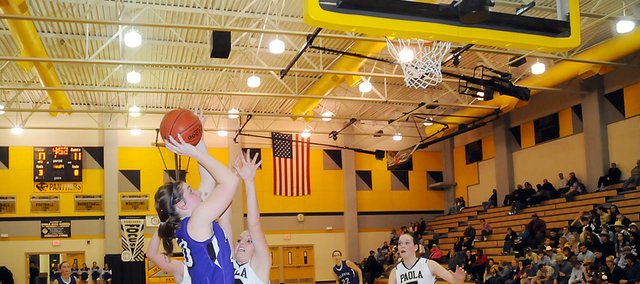 PAOLA ― Baldwin High School's girls' basketball backcourt combined to score 24 points in the squad's first Frontier League action of the season Tuesday.
Junior Kailyn Smith and sophomore Katie Jones scored 13 and 11 each in the Bulldogs' 56-47 victory over the Panthers. The win improved the Bulldogs to above .500, with a 3-2 record.
"It feels good to get the league win tonight," coach Bob Martin said. "This was a good win for us early in the year and on the road."
Smith scored all 13 points in the second half, including nine in the fourth quarter leading Baldwin on an 18-1 run during the second half. She sank five of six free throws in the final quarter and seven of eight in the game.
"In the first half, we were trying to find our rhythm," Smith said. "In the second half and especially the fourth quarter, we found it and started clicking really well together."
The junior point guard helped spark the Bulldogs' second half comeback. The Bulldogs trailed 39-30 after a 10-0 run by Paola in the third quarter. Sophomore Hailey Cope ended the run with a basket at the end of the quarter.
Cope's basket was the first two points of an 18-1 run by Baldwin. Five Bulldogs scored during the spurt. Smith sank a three-pointer to break the tie and give BHS a lead that it wouldn't relinquish. Smith and Cope combined to score 16 of Baldwin's 21 fourth quarter points.
"It feels good to win tonight," Cope said. "We haven't played well in the third quarter this season, but I thought we did tonight. We came back in the fourth quarter and finished strong. It was pretty intense, but also exciting. I enjoyed playing a little more tonight."
Cope, Jones and Smith, teamed up with juniors Katie Kehl and Kelsey Dighans to play most of the final quarter. Martin found a lineup that worked Tuesday and stuck with it.
"They were doing some good things and taking care of the basketball," Martin said. "They were doing what we needed, so we went with the hot line up at the end of the game."
He credited the Bulldogs' defense for the second half rally.
"We finally locked down and played some defense late in the game," Martin said. "Our defense was pretty poor for three quarters. We gave up a lot of drives and a lot of penetration. But we finally clamped down, got some stops and turnovers. Then we also hit some shots in the fourth quarter. We finally got on a little roll offensively and things turned around for us. I think it started with our defense and shutting them down."
Martin also said the Bulldogs stopped committing fouls during the fourth quarter, which helped spark the comeback, too.
"Absolutely," Martin said. "We weren't playing with our feet. We were reaching and committing really bad habits. We had been playing well defensively all year, until the first three quarters tonight."
Smith led Baldwin with 13 points, while Jones added 11. Kehl and Cope each scored nine points each to the victory.
"Hailey is going to be a really good player for us and she showed it tonight," Martin said. "When she gets a little fire in her, she is a good player.
"Kailyn made some big shots for us," he said. "She's a leader and we need her to score for us."
After playing five games in 12 days, the Bulldogs will enjoy a week of practice before its next contest. Baldwin hosts Eudora on Tuesday for a six-game night. The varsity girls will play at 6 p.m.
"It will be nice to get in some practice time," Martin said. "If we can get a win on Tuesday, it will be a merry Christmas."