Fill the Bus campaign makes gifts available to everyone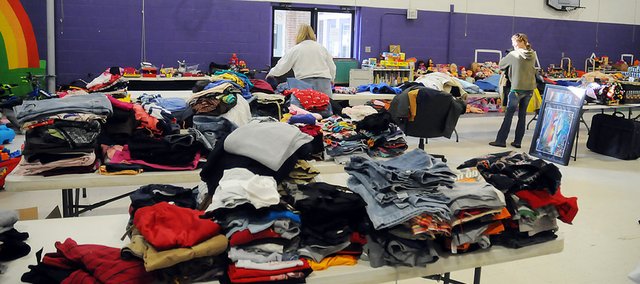 Baldwin City residents needing Christmas gifts for their children or relatives, but find themselves struggling in the tough economic times, have a solution they can use that is free.
The Baldwin City Recreation Commission is sponsoring a free shopping day to local families Saturday. It will run from 9 a.m. to 3 p.m. inside the multi-purpose room of the old Baldwin Elementary School, located at Seventh and Chapel streets.
"Hopefully, we have a lot of people Saturday," co-organizer Laura Huggins said. "We are hoping for a large turnout."
The shopping will be set up similar to Toys for Tots, except there are no economic requirements for shoppers to meet. The only qualifications are that shoppers give their name, proof of residency, phone number and number of children in the family. Each family can only shop once and they must be Baldwin City residents.
"We're pretty excited, because we've never seen any place that opens it up to anybody in Baldwin City," Huggins said. "With Toys for Tots, you have to qualify. We don't ask questions. You just come in and shop."
Items inside the multi-purpose room include dozens of stuffed animals, toys, clothing and other items. Most of the items are for children, but there are adult gift ideas, too.
"It's set up similar to Toys for Tots," co-organizer Amy Webb said. "There will be signs on each table that may say two items per age appropriate child. They walk around with a trash bag and collect their items."
The shopping is in conjunction with the Fill the Bus campaign that ran for a month during November and into December. The BCRC sponsored the charity drive.
"For four Saturdays, from 9-3, we have a lot of stuff," Huggins said. "The community has been very gracious and giving. Im shocked at how much we have here."
Residents brought gifts to the school bus that was parked in the Baldwin City Market parking lot for four consecutive Saturdays. The largest day of gifts received was Nov. 26, which was the day of the annual Festival of Lights parade.
"We've had so many people that don't qualify, so I asked Steve (Friend) what he thought about it," Huggins said. "He was all for it, so we have it open to the community.
Donations are still being accepted. Residents can either drop them off at the BCRC office downtown or call Webb at (785) 979-3456 for drop off or pick up.
"It was really nice of (Superintendent) Mr. Dorathy to let us use this space," Huggins said. "It's very helpful. We'd like to thank the community for the donations. We also want to thank the recreation department, Delbert Sheldon, Gary Richardson and others who have helped make this possible."