Community choir blends ages, talents of local residents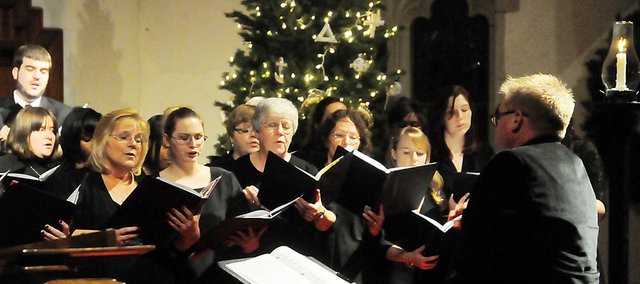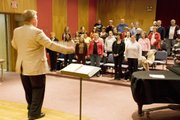 Mike and Susan Gammage's love for singing in a choir dates back decades to when they met while attending Midwestern State University in Wichita Falls, Texas.
Two years ago, the longtime Baldwin City couple voluntarily became subjects in an experiment conducted by Matthew Potterton. The Baker University director of choral activities created a community choir for anyone who had a passion to sing.
The Gammages were pioneers in the program as they were one of the first volunteers. In fact, they were eager to sign up.
"We were quite excited when Matthew put out the advertisement for it," S. Gammage said. "While we had done church choir, it had been a while since we had done church choir, this is far more enjoyable to us, because there are more people and a bigger variety of music."
Now, nearly two years later, the Gammages know they made the right decision.
"My wife and I met in a choir in college," M. Gammage said. "We both started out our college careers as music education majors, but finished up with other degrees. We've always liked and enjoyed singing. The more complicated the piece, the more we enjoyed it."
The Baker Community Choir has been going strong for four semesters with college students and local residents. It began in January 2010 and it's had about 60-85 singers every semester. There were 72 involved in the Dec. 4 Candlelight Vespers performance.
"I love it," Potterton said. "It's great. We are going strong. We will keep going and looking for new music and new singers. The numbers continue to grow. Often times people will have to drop out for a semester, because of work, but they tend to come back, which I love. I think it's great for any community, but particularly for Baldwin to have this outlet.
"I have some members in the group who have Master's Degrees in music and others who have only sung in the shower," he said. "It's a neat mix of people. It's hard, because we have such a wide range of skills, but it's amazing the product that all of them produce together."
Members of the choir share the same sentiment.
"It was a great experience," said Laura Morford said. "The talent that we have in Baldwin is phenomenal. I was blown away. I felt like a little peon among some great voices."
Each semester's group has shown an array of talent, according to Potterton. During the Vespers' performance, they all put it together to debut a new musical number.
"Sounds of the Season" is a musical piece composed by Mark Hayes, who is a Kansas City (Mo.) composer. A donation by Susanne Teel, a member of Baker's Board of Trustees, commissioned the work for Vespers.
"He has really pushed the limits, as far as his repertoire that he has chosen for the community choir," M. Gammage said. "I like Latin pieces. The Mozart Requiem is one of the hardest pieces we did in college and I enjoy it. I also enjoy some of the old standards. We've really enjoyed some of the new stuff he has challenged us with. The new piece for Vespers was quite enjoyable, but challenging."
His wife also enjoyed debuting the musical number.
"I enjoy it all, because I enjoy singing," she said. "I'd have to say that Vespers last week was tops so far. Having a new piece to sing that no one was ever sung before was unbelievable. It was just fantastic."
The favorite styles of music differ for each member of the choir in the same way the ages vary from young to old. The youngest member of the choir has been a local sevneth-grade student, while the oldest isn't known, but estimated to be around 70 years old.
"My first year we had a seventh-grader," Potterton said. "I don't know the age of my oldest, but you guess based on what you see. It's half college kids and half community members. Somebody once asked me if there was an age limit. I told them you have to be able to read and be able to stand for a two-hour rehearsal. That's my criteria."
The variety of ages is one aspect of the choir that members enjoy. Since it's open to anyone, they like singing with older and younger members of the community.
"I love it," S. Gammage said. "I'm singing with kids that are grandchildren's age. That's a lot of fun. They bring a whole different perspective to the choir."
Not only is age one variable of the choir, but there are other nuances about it that make it enjoyable for those involved.
"I absolutely enjoyed it," Morford said. "I happened to be the only woman singing in the tenor section. I had wonderful male voices all around me."
Potterton, who also directs the Baker University student choirs, said the difference between the community group and his student choirs is a thin line. He knows there are subtle differences, but he tries to achieve the best from both groups.
"I strive for the best music I can from this group," Potterton said. "But a community group is different from a group of students. I have to keep in mind why they are there. They are there because they have a passion for singing and they want to maintain that, which isn't much different from my students. With a concert choir, we work at a faster pace and when they come in, I expect that the music is learned. If I have that expectation with the community choir, not very many people could fulfill that, because they are working people and they come in expecting to learn the music here. It's two different mindsets."
The choir practice from 6 p.m. to 8 p.m. on Thursday evenings at McKibbin Recital Hall. The spring semester will begin Jan. 26. Anyone is welcome to attend.
"People can just show up for that first rehearsal," Potterton said. "If they have questions, they can contact me. There is no audition. The only requirement is that you want to be there and you have a passion to sing."