BHS

senior win first-ever varsity tournament to lead Bulldogs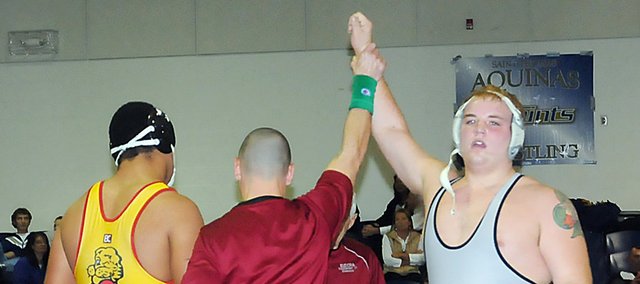 EUDORA ― Colton Bonner continues to make a name for himself during his senior season as he once again led the Baldwin High School wrestling team.
The 220-pound senior won his first-ever varsity tournament Saturday. He led the Bulldogs to a ninth-place finish out of 23 teams at the Eudora Tournament of Champions.
Lawrence won the meet with 260 team points. Baldwin scored 139.5 points to finish ninth.
"We all wrestled fine," coach Kit Harris said. "Our top guys are wrestling well. Our young guys are going through their learning phase. They're doing all that's expected of them at this point. They are getting a lot of good experience and winning some matches against upperclassmen. I have to remind myself, since we a unique situation of some really good guys and some guys jumping into varsity for the first time, that I shouldn't look at the team score so much, but look at each wrestler and how they're competing."
For the second straight meet, Bonner has led the Bulldogs. The BHS senior finished the two-day tournament with an 8-0 record and six pins.
"It always feel good to bring home the gold after losing last week," Bonner said. "It feels good to bring the hardware home."
Bonner's closest match of the tournament came in the quarterfinals. He narrowly defeated a Tonganoxie wrestler 5-4, but the match was a learning experience for the BHS senior.
"That definitely put me in my place," Bonner said. "I couldn't get some things I was used to getting against other kids, so I got frustrated. I'll see him later on in the season, so it was nice to see him once early."
He came back and pinned his semifinal opponent. In the finals, Bonner won by major decision, 14-6, over a Lawrence wrestler.
"I thought I wrestled well," Bonner said. "I had a couple first period pins and a couple tough matches. I wrestled my best match in the finals."
The Bulldogs' coach was proud of Bonner. He also explained why the senior is wrestling better this season.
"Bonner was wrestling well, but sloppy against lesser competition, until he almost lost one match," Harris said. "He was lucky to win and that really opened his eyes. He then pinned his next two opponents and wrestled a great finals match.
"He's got more moves that he can hit," he said. "He's working on that. He's really confident right now, when last year he was still trying to find himself. He's got a lot of confidence, but his season will get tougher."
Junior Bryce Shoemaker also placed high Saturday. Shoemaker went 6-1 in the 126-pound bracket , recording three pins.
"Friday was more of a regular day, but I had some tough matches on Saturday," Shoemaker said. "I had three really tough matches."
Harris said Shoemaker had arguably the toughest bracket in the tournament. His bracket included four wrestlers, including himself, who had been state champions and/or finalists. He beat the No. 1 seed, who was a state runner-up in Missouri last year, 5-0 in the semifinals.
In the finals, Shoemaker fell to two-time state champion Austin Hood of Louisburg. Hood and Shoemaker have wrestled numerous times throughout high school. On Saturday, Hood won 3-0.
"I have a lot that I still need to work on with him," Shoemaker said. "I've got to watch some of our matches and find ways to beat him. He controlled our match, but hopefully that can change next time."
The Buldogs' other placer was senior Andrew Morgan (132 lbs.). Morgan went 5-2 in a bracket that was deep with talent. Morgan wrestled his way into the semifinals before dropping two close matches and then rebounding for a fifth-place win.
"He had a tough bracket," Harris said. "He beat a Tongie kid that isn't well known right now, but he will be in the mix of things late in the year. Andrew came back to beat a Prairie View kid who's qualified for state every year and who's a good wrestler."
Also winning matches for BHS were sophomore Tucker Clark (120 lbs.), senior Cody Sellers (138 lbs.), senior Coltin Thomas (152 lbs.), junior Colton Horne (160 lbs.), junior Jason Von Bargen (170 lbs.) and freshman Tiler Garcia (195 lbs.). Garcia earned a pin over a senior from Rossville who eventually placed fifth.
"Tucker, who is one of our better wrestlers, has had some unlucky pool placement in both tournaments," Harris said. "He's got the absolute worst-possible draw. Tucker could have been a top-six wrestler at the tournament."
Baldwin will compete in the Ottawa Dual Tournament on Saturday. The tournament will begin at 9 a.m. and BHS will compete against four teams in its pool before one final dual for team placing. BHS will battle Highland Park, Valley Center, Anderson County and Osawatomie in its pool.
"I've always liked dual tournaments," Shoemaker said. "It's more of a team aspect and it brings us closer together. Last year, it was a lot of fun and we did really well."