BHS

boys remain unbeaten after road win at Paola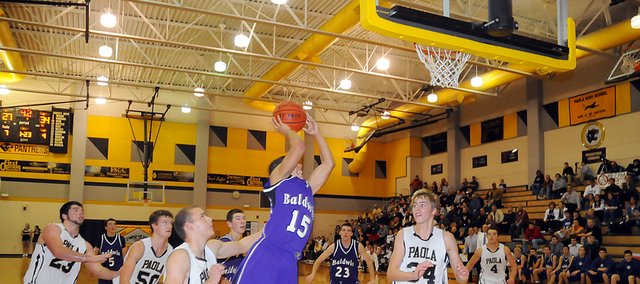 PAOLA ― A strong third quarter and a career-high night from Cornell Brown helped the Baldwin High School boys' basketball team win its opening Frontier League game of the season and stay unbeaten.
The sophomore scored 17 points, including 12 in the second half, leading the Bulldogs to a 49-42 victory Tuesday. The Bulldogs are 5-0, including 1-0 in the league, with one game remaining before Christmas break.
"It's exciting to start the league season," Brown said. "Starting it off with a win is super exciting. Plus, we stay unbeaten and just keep rolling. We played well tonight. It was our first true road game and it was a tough crowd. We stuck together and got through it."
First-year BHS coach Dustin Leochner was proud of his team's effort Tuesday.
"If you want to compete in your league, road wins are huge," Leochner said. "You have to win at home and then pick up a few on the road. Teams that can do that typically find themselves in the hunt late in the season. We got the first one under our belts, stay unbeaten and keep rolling as long as we can keep rolling."
Baldwin trailed by two at halftime, but outscored Paola 14-4 in the third quarter. Brown scored five points, while junior Caleb Gaylord added four of his own. Senior Alex Twombly converted a three-point play near the end of the quarter to add to the lead.
"We made a few adjustments at halftime," Leochner said. "Like they've done each game, they come out and do what we ask them to make. They made every adjustment that we wanted to make. We wanted to get the ball inside in the second half, because we felt like they couldn't match up with us inside. We also got pounded on the glass in the first half. (Paola) got lots of offensive rebounds and putbacks. They probably had eight or 10 points off of offensive rebounds in the first half.
"I told them we have to clean up the glass and we told Cornell that he needed to drive it a bit more," he said. "I told them, I guarantee you will win if you do these things. I also guarantee that if you don't, you will lose. They came out and took care of business."
The Bulldogs maintained their lead in the fourth quarter. Paola cut the lead to three with a 5-0 run, but never got any closer during the final 4:19. Baldwin answered the 5-0 run with a 7-0 run of its own.
Baldwin made just 3 of 6 foul shots during the final 1:06, but it was enough to hold off the Panthers. BHS made 8 of 14 in the fourth quarter and 15 of 25 for the game.
"We need to work on those," Brown said as he laughed. "We'll get better at free throws."
Free throw shooting is an area of concern for the Bulldogs' coach and he's working to improve the team's average.
"I told them we made just enough to keep them at arm's length," Leochner said. "If we get into a three-point game, that won't be good enough. If we get into a three-point game with a team that can hit the outside shot, we will lose. We have been working on free throws at practice, but it takes a lot of time to work on them as a team. It's something they need to do on their own, too."
BHS led 7-2 early in the game and 15-9 at the end of the first quarter. However, Paola began the second quarter with a 10-0 spurt, which was responded with a 6-0 Baldwin run.
"They made a 10-0 run to start the second quarter, but we made some adjustments at halftime," Brown said. "We listened to coach and everything came together in the second half."
After playing five games in 12 days, the Bulldogs will enjoy a week of practice before its next contest. Baldwin hosts Eudora on Tuesday for a six-game night. The varsity boys will play at 7:30 p.m.
"We get a bit of practice time here," Leochner said. "We still aren't at full strength and we're hoping by that time, we will have Dayton back. We're looking forward to having a week to work on things and then play our rival. Hopefully the home crowd comes out for it and helps us out a bit."