Baldwin High boys win tournament; girls finish runner-up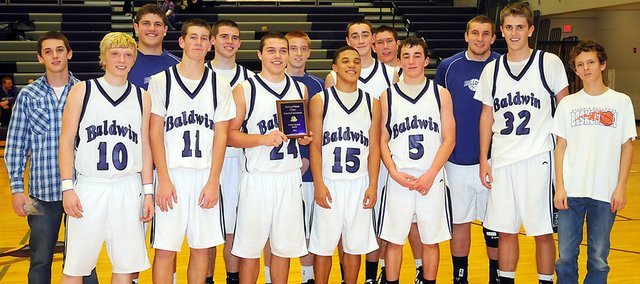 Boys basketball
LOUISBURG — The Baldwin High School boys' basketball team kept its undefeated season alive and won its first tournament Friday night.
The Bulldogs (4-0) beat Iola 40-35 in the championship game of the Bulldog/Wildcat Classic. The Bulldogs led the Mustangs during the final 14 minutes of the contest and held the Mustangs to two points in the final 3:51.
"It's always nice to get a tournament championship," coach Dustin Leochner said. "We talked at the beginning of the week to use this week as a dress rehearsal for postseason play. We played hard tonight and we executed tonight. These guys are really happy and I'm giving them the day off tomorrow."
Chad Berg led Baldwin with 14 points. Berg sank a trio of three-pointers in the second half and sank 3 of 5 free throws during the final minute to seal the victory.
Baldwin will next play at 7:30 p.m. Tuesday at Paola.
Score by quarter
B — 6 10 14 10
I — 6 8 15 6
Individual scoring
Baldwin — Chad Berg, 14; Britton Schroeder, 3; Alex Twombly, 4; Cornell Brown, 4; Michael Burton, 4; Clayton Duncan, 4; Caleb Gaylord, 7.
Iola — Clint Heffern, 3; Levi Ashmore, 16; Jarred Latta, 4; Jerrik Sigg, 3; Braden Larson, 2; Christian Kauth, 7.
Girls basketball
LOUISBURG — A pair of long scoring droughts in the second half doomed the Baldwin High School girls' basketball squad on Friday night in the title game of the Bulldog/Wildcat Classic.
Baldwin (2-2) went seven minutes with out a point in the third quarter before going more than minutes without another point into the fourth quarter. During that stretch, Burlington scored 15 and built a 44-20 lead.
The Wildcats went on to win the game 46-30. Baldwin finished runner-up in the early season tournament.
The Bulldogs will next play at 6 p.m. Tuesday at Paola.
Score by quarter
Bu — 15 11 7 13 – 46
Ba — 10 8 2 10 – 30
Individual scoring
Burlington — Haley Gilman, 4; Breanna Blume, 6; Sydney Ladom, 2; Madison Stadel, 10; Jacquelyn O'Conner, 15; Madison Stewart, 9.
Baldwin — Kelsey Dighans, 6; Kaitlin Jorgensen, 2; Katie Jones, 4; Kailyn Smith, 2; Glenn McCabe, 2; Jessie Katzer, 6; Katie Kehl, 2; Hailey Cope, 2.