Bonner, Shoemaker lead
BHS

wrestlers at

GEHS

tournament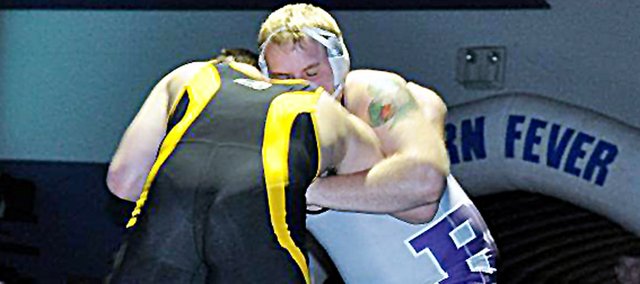 Colton Bonner started his senior wrestling campaign with a bang Saturday at the Gardner-Edgerton Invitational.
The 220-pound senior finished runner-up at a tournament full of larger schools from the Kansas City area, as well as out of state. Bonner led Baldwin High School, who finished 10th out of 17 teams at the first tournament of the year.
"It was really tough competition, but everyone competed well," coach Harris said. "Our top guys had some nationally-ranked competition and they fared well. Our young guys had their first experience wrestling varsity and they competed well. Some even got some good wins."
Bonner began his tournament with three victories. He pinned all three of his opponents before running into a buzz-saw in the finals. He wrestled a three-time Iowa state finalist that easily defeated Bonner.
"I wrestled a great tournament," Bonner said. "I came up short, because I wrestled a really good guy in the finals. I was still happy with my performance.I worked really hard in the offseason and I think that's starting to pay off now. It's also my senior season. This is my year to shine."
Harris was proud of Bonner for beginning the season with a strong start.
"Bonner had a good tournament," Harris said. "He pinned his way to the finals and he faced a guy who is going to Missouri next year to wrestle. Bonner hung in there and battled. It's a good start for him."
Junior Bryce Shoemaker was the next highest-placing Bulldog at the tournament. He finished third at 126 lbs. and battled nationally-ranked opponents.
"It was a pretty tough bracket and it tested me," Shoemaker said. "I lost to a kid in the semifinals who is second in the nation. I competed with him, but I wouldn't say it was a great match, but I just wanted to compete with him."
Shoemaker began the day 2-0 before he faced Cory Clark (133-0 career record) of SE Polk (Iowa), who has signed with an NCAA Division I school for next year. Clark won the match 10-4, but Shoemaker was one of only three wrestlers to score a takedown against Clark during his high school career.
"Bryce took him down," Harris said. "After the match, the opposing coach said that kid has only been taken down three times in high school. In the finals, Bryce wrestled awesome. He got a takedown and had great lead management. He had great continued action. He wrestled a smart and aggressive match."
Shoemaker came back in the third-place match and beat a Gardner-Edgerton state champion 4-2.
"I probably won't see him for the rest of the year," Shoemaker said. "It was a good match."
Baldwin's other top finisher was senior Andrew Morgan. He finished fourth at 132 lbs. with a 3-2 record. Morgan lost two close matches. One was to eventual champion Skyler Wood (a potential four-time state champ from Missouri) and one to Thomas Gilman, nationally-ranked from Omaha Skutt (Neb.).
Freshman Jon Pratt (106) and junior Jason Von Bargen (170) each finished in seventh place, only one place away from a medal. They each went 3-2. Von Bargen ended the day with an exciting come from behind victory in overtime.
Freshman Tiler Garcia (195) went 2-3 with two wins by fall to finish in eighth place, as did senior Cody Sellers (138). Sophomore Tucker Clark (120) went 3-1, defeating the eventual third-place finisher 12-5, but unlucky pool placement dropped him to the ninth place.
"Bryce and Andrew had good tournaments," Harris said. "Jon Pratt and Tiler Garcia did, too. Tucker Clark had a great tournament. He only had a single, one-point loss, but that put him in the bottom of the pool because of how things fell. It was unfortunate."
Baldwin will be competing in the Eudora Cardinal Classic on Friday and Saturday. It's a 24-team tournament with mostly Class 4A schools.
"It's a very tough tournament, especially for the start of the year," Shoemaker said. "I think we'll wrestle better this weekend at Eudora. It will be nice to see some 4A guys."