BHS

girls rebound from opening loss with back-to-back wins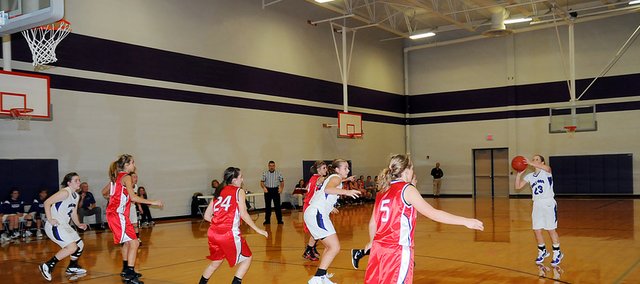 LOUISBURG ― Baldwin High School girls' basketball coach Bob Martin was pleased to see his team respond to dropping its opening game with a pair of victories this week.
Since losing the season opener to Santa Fe Trail, the Bulldogs have defeated Chanute and Anderson County. They won both games to begin the Bulldog/Wildcat Classic and now they find themselves in the championship contest Friday.
"When you play in a tournament, you'd like to be in the championship game," Martin said. "We will play a good team and it will be a challenge for us. Hopefully, we'll get out, compete and play better on Friday."
Baldwin's opponent is yet to be determined as tonight's game will decide the seedings for the final night of action. Baldwin will play at 5:45 p.m. Friday in Louisburg.
"I'm excited," junior Kehl said. "It will be a good test for us early in the season."
On Tuesday, Baldwin used a strong first half and fourth quarter to dispose of Anderson County. BHS built a 32-15 lead at halftime and later outscored ACHS 12-2 in the final quarter. BHS won the game 48-24.
"We did some nice things tonight," Martin said. "We were pretty consistent defensively tonight and that helped us through some rough offensive stretches. We just have to be a little smarter with the ball and knock down some shots we aren't making."
Baldwin san a pair of three-pointers late in the first half to help finish the second quarter on a 7-1 run. Junior Kailyn Smith hit the final one seconds before halftime. Sophomore Katie Jones made the other with 1:13 remaining in the half.
The Bulldog struggled to score in the third quarter, accumulating four points. They made two layups all quarter, but held Anderson County to just seven points. However, the Bulldogs went to work in the post during the final quarter, scoring all 10 of their 12 points in the paint to seal the win.
"We're taking better care of the ball and we're making more shots," Kehl said. "We still have a lot of work to do on finishing many shots, including myself. Our confidence is growing. Our leaders are starting to step up and help the players who haven't played much varsity before."
Martin agreed that the Bulldogs' younger players, who lacked solid varsity minutes before this season, are improving early this winter.
"As they get more comfortable, a lot of things will smooth out for us," Martin said. "We're going to be pretty competitive. I like our team and I like the attitude they have. They work hard and they will get better. It's always nice to get two wins. That makes everything feel better."
Jones scored in double figures for the third game. She led BHS with 16 points Tuesday.
"Katie Jones has had some pretty good games," Martin said. "Katie Kehl is a leader inside for us. She knocked down a couple shots tonight and she's a good rebounder for us. They've been rocks for us."
On Monday, Baldwin jumped out to an early lead, but maintained its lead with consistent scoring each quarter. BHS won the game 44-29 to claim its first victory of the season.
"It was pretty similar to tonight's game," Martin said. "We played well in stretches, but we had some weak stretches, too. We finished well in both games, but the third quarter has been a bit of a struggle for us in every game we've played."
Junior Kaitlin Jorgensen led all scorers with 13 points, while Jones added 10.
"It's nice to bounce back with two wins," Kehl said. "We've improved a lot. We had like 28 turnovers that first game and we had five during the first half tonight, so we're getting better."
After Friday, the Bulldogs will play at 6 p.m. Tuesday in Paola.
We're getting better," Martin said. "We're not very consistent. We go through some rough stretches and we're going to for a while, but we are getting a little better every game. I'm happy with the progress we've made."