BHS

boys basketball squad begins season 3-0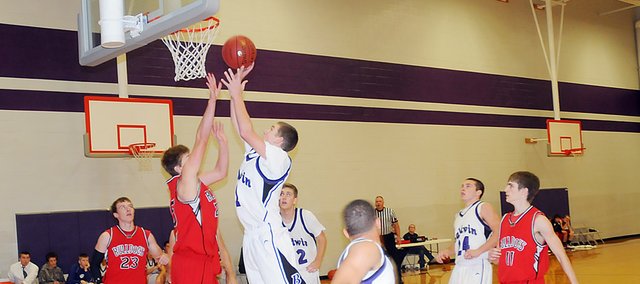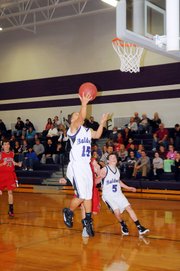 LOUISBURG ― It hasn't always been sharp or well-executed, but Dustin Leochner and his Baldwin High School boys' basketball players will take their 3-0 start on the season.
There have been many personal fouls, an overtime win and even a bloody mouth during the opening week of the Bulldogs' season. Regardless, the Bulldogs are unbeaten and will be playing for a tournament championship Friday evening.
"It is exciting," said first-year coach Leochner. "We'll probably be playing Iola. It will be a good challenge for us."
The Bulldogs will play at 7:30 p.m. in Louisburg. Their opponent is yet to be determined, because the Bulldog/Wildcat Classic games continue tonight.
On Monday and Tuesday, the Bulldogs defeated Chanute and Anderson County. Monday's contest went into overtime, but the Bulldogs prevailed, winning 59-57.
"It was intense," Leochner said. "It was a hard one to watch at times, but the guys hung tough. It was a good early test for us."
Baldwin led by five heading into the fourth quarter. BHS missed all three of its free throw attempts as Chanute tied the game. Sophomore Cornell Brown hit the gym wall hard late in the game. He left the floor with a bloody mouth, which left a blood spot on the wall, but he was unable to play during the overtime period.
"We didn't have Cornell for the last six minutes of the game," Leochner said. "He took a spill and the officials wouldn't let him back in the game. They said he looked woozy coming off of the floor."
Baldwin overcame their point guard's absence in overtime. BHS made all eight of its foul shots to seal the victory. Junior Tyler Cawley and sophomore Chad Berg each made four free throws.
On Tuesday, Baldwin used momentum from its 2-0 start to the season to win the battle of the Bulldogs. Baldwin defeated Anderson County 49-34.
"I didn't feel like tonight was our best performance," Leochner said. "Overall, we're playing well. We just never got into a flow tonight. We tried to force the issue and tried to make passes that wren't there. We started over thinking things a bit. Nothing really came easy to us tonight and I think that surprised us a bit, so we started over thinking things."
Although the players and coaches weren't pleased with the performance, they were happy to begin the season 3-0.
"It's a good start," Twombly said. "We haven't done that in a long time. It's pretty sweet. We didn't play great tonight, but 3-0 is 3-0, so we'll take it."
Baldwin built an early 12-7 lead, thanks to 10 points from the Gaylord brothers. Junior Caleb Gaylord had the Bulldogs' first six points, while freshman Christian scored another four during the first quarter. Then foul trouble plagued the brothers and other BHS post players.
Anderson County finihsed the quarter on an 8-2 run, taking a 15-14 lead. However, Baldwin used a 6-0 run to end the first half and take a lead it never relinquished.
"Our second team played really well," Leochner said. "We were in big time foul trouble early, because we played lazy defense in the first quarter. Our starting big guys got in foul trouble early and our big guys continued to get in foul trouble. Our bench guys came in and held serve."
BHS increased its lead in the third quarter. An 11-3 run, sparked by six points from Brown, built the lead necessary for Baldwin to cruise to its third victory of the season. Twombly scored six points for BHS in the fourth quarter as the Bulldogs iced the game.
"We definitely fouled too much and our rebounding wasn't very good," Twombly said. "After halftime, we came out and played better. Coach gave us a nice halftime talk."
The Bulldogs' coach was pleased with the win, but knows his team has areas where it needs to improve.
"It didn't feel like a great game to us, but we still got job done," Leochner said. "We got a 15-point win, so we're not going to complain about that. We'll come back tomorrow, try to get better and come back Friday to play for that tournament championship."
Baldwin was sparked with 19 point from its bench Tuesday. Brown led the team with 11 points.
"We built that lead and started playing well with guys that played really important minutes off of the bench," Leochner said. "At one point, both of our starting guards weren't on the floor, but we expanded our lead. That says a lot about our team. I told our guys yesterday that we are a really deep team. They may not realize how deep we can go. We can put 10 or 11 guys out there and feel confident that they are going to get the job done. We saw that tonight and last night, too."
After Friday, the Bulldogs will play at 7:30 p.m. Tuesday in Paola.