Weather doesn't put chill on annual light parade festivities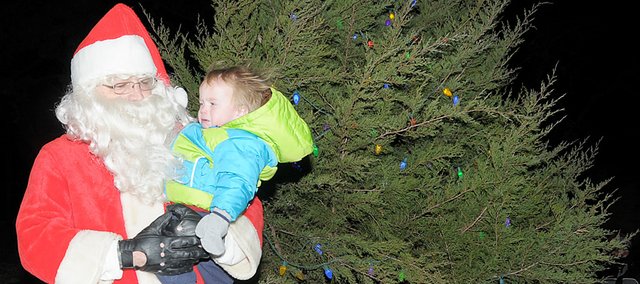 Hundreds of Baldwin City residents braved the cold, windy conditions Saturday night to watch the annual Festival of Lights parade and welcome Santa Claus to town.
The annual event was pushed back a week this year, back to the Saturday after Thanksgiving. That move brought in cold, breezy weather. However, that didn't stop visitors from coming downtown to ring in the holiday season.
"It was wonderful," said Tammy Michael, Baldwin City Recreation Commission organizer. "The only thing I can complain about is the cold weather. It was very windy and cold. Other than that, it was fantastic."
During the evening, Kansas State Bank gave away free hot apple cider. Visitors could also go inside the Lumberyard Arts Center to drink hot chocolate and eat cookies.
"We had plenty of warm stuff to drink," Michael said. "I thought the wind and the cold would keep people away, but I'm glad it didn't."
Despite the weather, there were 10 floats and four fire trucks in the annual light parade. Last year, there were 11 floats on a much warmer night.
"It was a very good turnout for the cold weather," Michael said. "We were really beginning to wonder about 3 p.m., when the wind was blowing, if anyone would show up.
"For as cold as it was, we had an excellent crowd," she said. "Somebody said they thought there was close to 500 people."
The Baker family's float won the first prize in the decoration contest. Vesecky Farms finished second and Kern Collies place third in the contest. Andy Kite was the lone competitor in the junior division, so he won first prize in that contest.
Organizers also gave prizes to downtown businesses for decorating their store fronts. Winning the contest was Kite Video, while Reece and Nichols Real Estate and the Lumberyard Arts Center placed second and third.
Former Baldwin City Chamber of Commerce office manager Susan Baker was the grand marshal of the parade. It was kept secret until days before the parade.
Santa Claus and Allen Craig, Baldwin City Fire Department Chief, rode in on the final float. Santa stepped off of the antique fire truck and was instantly greeted by dozens of children.
This year marked the 31th year for Santa Claus to ride in on the antique fire truck and pass out candy canes. He then picks up a young child and lights the city's Christmas tree, which is located between the post office and the LAC.
"I'm sad we missed it," Michael said. "That was the only thing I wish we could have recognized. It's pretty awesome that Santa's been lighting our Christmas tree."
Following the tree lighting, the BCRC began its raffle prize giveaway. Dozens of items were given away to event visitors. The large prizes, a pair of bicycles, were given to Dale Michael and Henry Parks.
"We gave away numerous prizes," Michael said. "I have a page full of donators. We had two tables full of prizes and two bikes. The prize drawing went over very well as it always does."
The LAC was also hosting a holiday art sale Saturday. There was also Santa's Toy Shop inside the Baldwin Academy of Dance building.
Also taking place Saturday evening was the Fill the Bus campaign. Visitors brought dozens of gifts, which will be handed out to less fortunate residents.
"It was excellent," Michael said of Fill the Bus. "They actually had to go and unload the bus before the parade because they had collected so much. It's really needed in the community."