Juniors step into leadership role on
BHS

girls' basketball team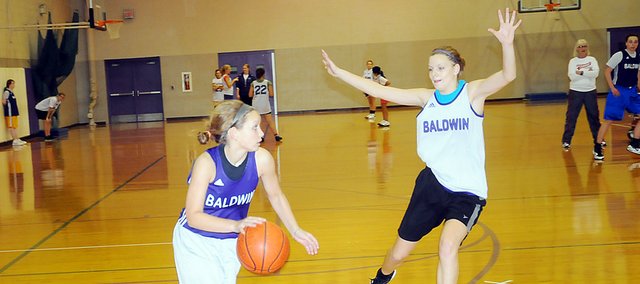 Baldwin High School's girls' basketball team will have a handful of the same players from last year's roster, but it will be a vastly different squad taking the floor to open the season Friday.
The Bulldogs lost their top three scorers to graduation and another top scorer and rebounded moved to Lawrence, leaving the Bulldogs searching for players to fill those voids this winter. On top of that, they have only one senior, Carol Whaley, how is competing after taking three years off from basketball.
Baldwin's main core of players are sophomores and juniors. It will be their time to shine and lead the Bulldogs this winter.
"We're young, but we have some experience," coach Bob Martin said. "For a lot of girls, this is their first real taste of varsity duty. It's going to be a process. We know that. We think we'll be a lot better at the end of the year than we are now. We'll be competitive early, but as the year progresses, we'll get better and better."
Leading the way are returning players ― junior Katie Kehl, Kailyn Smith and sophomore Katie Jones. Kehl and Smith started last year, while Jones was the first or second player off the bench. The two juniors are coming back from injuries, but their coach hopes they stay healthy.
"Those three are our most experienced players," Martin said. "We'll really count on those girls to lead us. The problem is Katie Kehl is coming off ACL surgery and Kailyn is coming off a broken foot in the fall. So those are kind of concerns right now. If we're healthy at the end of the year, I think we'll be fine."
Kehl said she has concerns about the season, but she hopes they all go away Friday night.
"I'm really excited, but I'm also kind of nervous," Kehl said. "I'm nervous, because we are all young. It's a big step for us juniors to take this year. We have to step up and be the leaders of the team. I know we can do it, but it's just a big thing to expect for the first game."
The Bulldogs will also receive major contributions from its array of juniors. Those include Elena Watson, Kaitlin Jorgenen, Kaitlyn Barnes, Jessie Katzer, Kelsey Dighans and Callie Enick. Those players saw minutes last year, but in limited doses. They will be playing much more significant time this year as juniors.
"Most of our juniors have a played a lot on the JV," Martin said. "They got some varsity experience last year, but they don't have a lot of experience. I'm sure they are going to be excited about Friday."
Kehl knows her teammates have been working hard in the offseason for this moment.
"A few of us have been here for a while," Kehl said. "Kailyn, Katie Jones and I have played a lot of varsity. Even the other girls have been dedicated. We came this summer, we're working hard and we're lifting weights. We're strong and we're healthy. We're dedicated and we're willing to work hard."
One bonus for the Bulldogs is several tall players. They have height in each class, but several on the freshman level. In time, those players may contribute to this year's squad.
"We have some height down in the younger groups," Martin said. "That's something we haven't had for a while. Hopefully those girls progress enough that they will be able to help us later on in the season. Surely they will help us in the future, but it's something we haven't had here for a while."
Once BHS starts Friday, it will roll into a busy week. The Bulldogs travel to Louisburg on Monday and Tuesday for its annual round-robin tournament. They will play Chanute on Monday and Anderson County on Tuesday. The final game of the tournament will be played Dec. 9.
All BHS teams will play Friday at home. The opening games will start at 4:30 p.m. with the varsity girls at 6 p.m.
"It's nice to be at home Friday," Kehl said. "Hopefully we come out and play hard."